Puducherry (Pondicherry) Description:
Puducherry (Pondicherry) is a small, former French colonial town in Southern India. French architecture still lines the shady streets and canals of this seaside city that has become an increasingly popular destination for travelers since The Life of Pi was filmed here.

The French left nearly a century ago, but the colonial heritage of Puducherry draws many guests on luxury tours of India to delight in sleepy blend of Eastern and Western cultures unique to the region. The flavors of France are still palpable in the local boutique shops, quiet parks, and splendid wine and food pairings.

The four beaches (Paradise, Auroville, Serenity and Promenade) easily accessed from the city are splendidly pristine, perfect for casual strolls at dusk, and free of the usual hustle and bustle of beach destinations like Goa.

The Sri Aurobindo Ashram of international fame is also located here. The ashram draws a mix of spiritual visitors and creative types who help reinforce the bohemian atmosphere of Puducherry.
Best Time to Visit Puducherry (Pondicherry):
Warm year round, the monsoons in July and August offer respite from the heat and easy booking for travelers extending their India tours to the South of the country.

The high season for Puducherry is October through February, and travelers should make advance plans if they choose to visit this bohemian-chic destination during this time frame.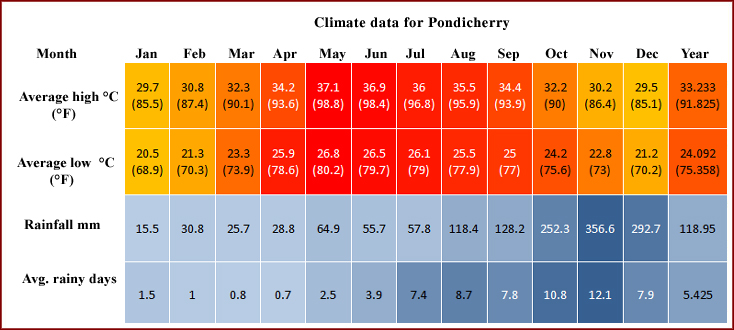 How to get to Puducherry (Pondicherry):
The administrative seat of a small Indian state sharing the same name, Puducherry township sits on the shore of the Bay of Bengal beside the Southern Indian state of Tamil Nadu.

The city is easily reached by private car from Chennai International Airport in the neighboring state of Tamil Nadu.
Puducherry (Pondicherry) Highlights:
Offering an almost shocking mix of cultures, the bohemian atmosphere, quiet parks and gardens, lovely beach strolls, and wonderful French influenced restaurants offer a unique experience in Southern India that has led the area's star to shine in the travel scene. Travelers come for the mix of serenity and artistic panache that gives the locale its unique flavor, and leave with lasting memories of one of the most unique places in Southern India.
Appropriate Attire:
Puducherry is a cultural melting pot that draws guests of all stripes. Western wear is perfectly acceptable, but if your day plans bring you to any holy sites, it's best to cover your shoulders, arms, and legs as a sign of modesty.