Day 1: Arrive at Kathmandu, Nepal by your scheduled flight – this itinerary assumes an arrival in the late morning or early afternoon. Easy Tours will be happy to guide and/or assist you with planning your international flight logistics. Our services begin with your luxury VIP greeting as you disembark at Kathmandu airport.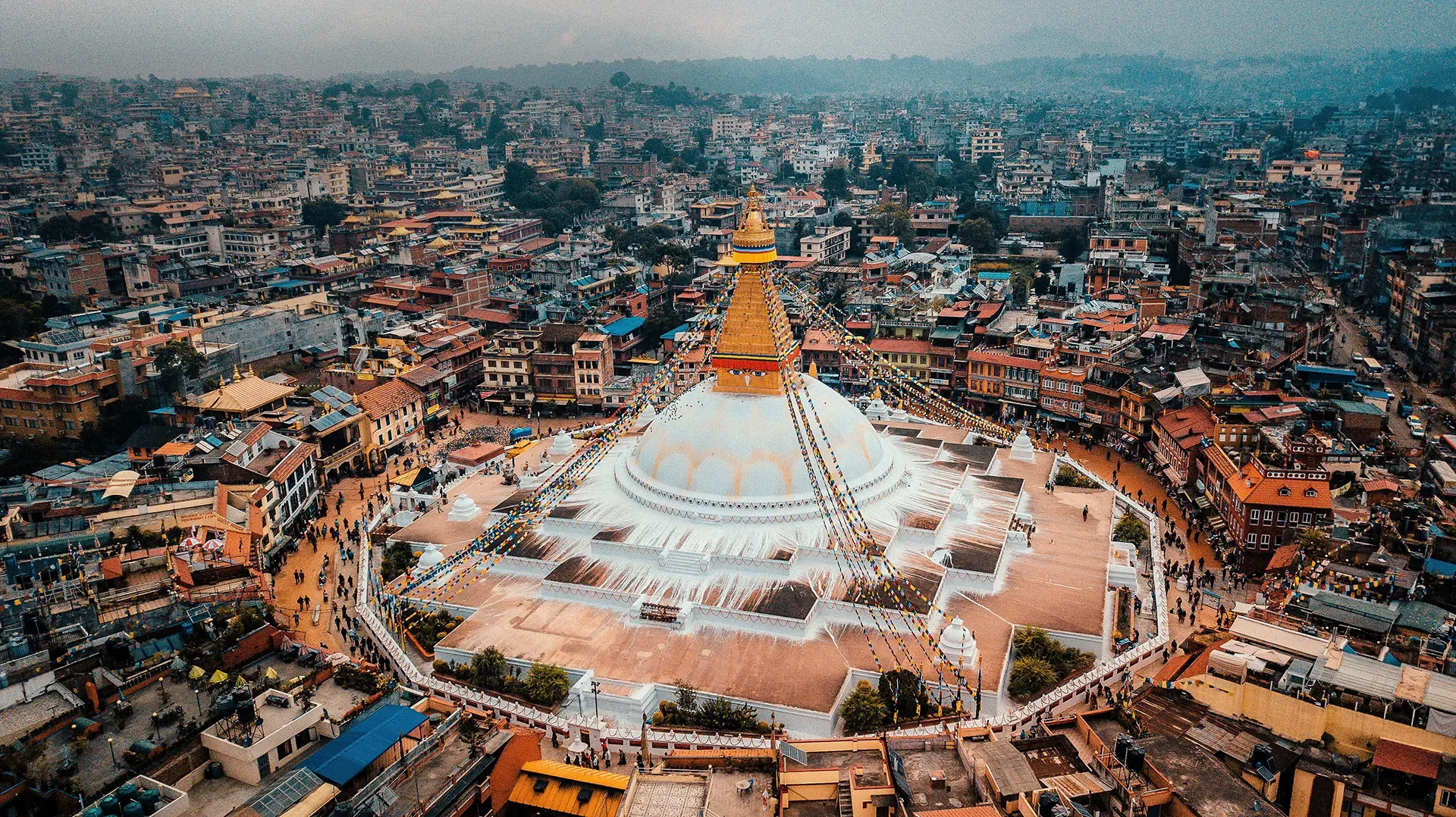 You are greeted after you exit from your plane and are escorted through the complete arrival process, including immigration, baggage claim, and customs. You are driven to your boutique luxury lodging in Kathmandu and assisted with your check-in.
If your arrival at your lodge is a little before 3pm, an early check-in may be possible, but is not guaranteed. If it is much before 3pm, and additional night's stay can be added, enabling you to check in at arrival. For most of our South Asian destinations, we recommend a day at leisure upon arrival so as to both recuperate from your international flights, as well as to build a cushion for unexpected flight delays. As all Nepal bound flights originating from the United States connect somewhere and most of them arrive in Kathmandu in the morning or very early afternoon, we schedule your arrival day as your day of leisure.
You are at leisure for the rest of this day to enjoy the facilities, dining and spa at your beautiful lodge, or to enjoy walks around the surrounding area. For guests who are certain that they will want to explore on this day, your Tour Director Guide can be available to explore Kathmandu if you let us know during your tour reservation process.
Welcome to an ancient Himalayan Country that offers a fascinating culture, incredible scenery, very warm and friendly people, great trekking opportunities, and a whole lot more. With the exception of the fairly congested Kathmandu Valley, Nepal has charming and laid-back cities and towns, along with picturesque wildlife parks that are home to many endangered species.
The unfortunate picture of the effects of the 2015 earthquake as painted by the media, like much of what they do, is severely exaggerated. For example, the three ancient UNESCO World Heritage religious structures in Kathmandu survived with very little or no damage. The three Durbar Square's (all of which are also individual UNESCO World Heritage Sites) in the queen cities of the Kathmandu Valley did suffer more damage, but most of their monuments are still standing and still provide wonderful insights into the local culture. You may want to leave part of your baggage at your lodging in Kathmandu as you will return here for your Kathmandu exploration, and the Nepal flights have weight restrictions.
(Overnight - Dwarika's Hotel)
Day 2: Kathmandu – Dhulikhel. (Breakfast) You are assisted with your checkout in the morning and driven to Bhaktapur, a UNESCO world Heritage Site, for a guided exploration. Bhaktapur lies on the way between Kathmandu airport and Dhulikhel and is a UNESCO World Heritage Site. It is one of the Kathmandu Valley's three queen cities, and its name translates as The City of Devotees. Although this queen city suffered more damage than the two others during the earthquake, there is more than enough remaining to marvel at as you walk around the ancient square with its unique architecture and charming temples.