Vietnam Tours
We use the term tours for want of a better word as we provide immersive luxury journeys tailored around our guests' preferences.

Why choose Immersive Travel with Easy Tours? Please note that immersive touring with us may not be right for you. Many people want to see as many of Vietnam's amazing destinations as quickly as possible, and these tourists should not use our services. Explorers who are motivated to truly experience foreign cultures will really enjoy our services. Here are a few reasons why -
Immersive travel that allows you to absorb.
Learn More
Expert consultants, not sales people.
Learn More
Memorable moments, not sanitized tours.
Learn More
We value your time, not just your budget.
Learn More
The passion and knowledge of our staff and the extreme attention to detail that we put into every aspect of your Vietnam tour is what separates us from the rest. We only offer mid-level to ultra-luxury travel, and so we never compromise on our level of service so as to compete with budget Vietnam travel agents that focus solely on price. Over a third of our guests are repeat customers and referrals because they recognize that we have the best values for the level of travel and service we provide.
Where Should You Go in Vietnam?
Often fought over by colonizers and neighbors but rarely held, Vietnam is a destination best known for its resilient but affable people, vibrant culture, and beautiful scenery studded with ancient monuments.
Our Tour Levels
All three of our luxury travel levels come with the industry's highest standard of service.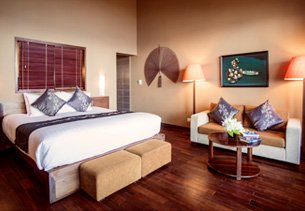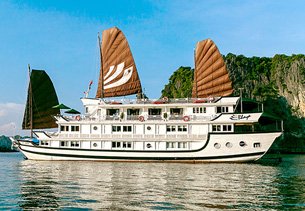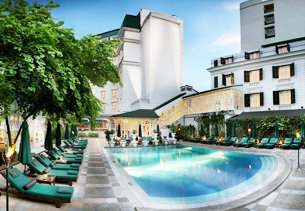 Vietnam - Our Favorites
From awe-inspiring excursions to beautiful vistas, these are a few of our favorite experiences in Vietnam that we recommend to our discerning guests.
About Vietnam
Vietnam Weather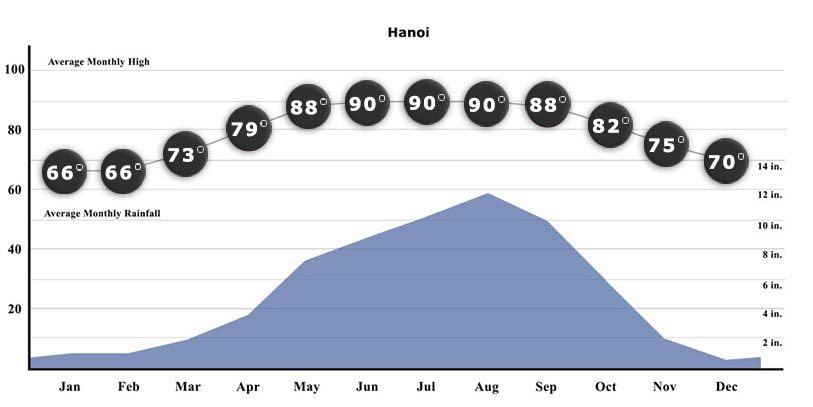 Best Things to See in Vietnam
Genial locals and a rustic atmosphere are what travelers often remember the most from their travels in Vietnam, but the country is also home to an intriguing mix of ancient ruins, secret cave shrines, gushing rivers, and verdant jungles that are sure to delight. The following is a brief overview of Vietnam's must-see attractions.
Halong Bay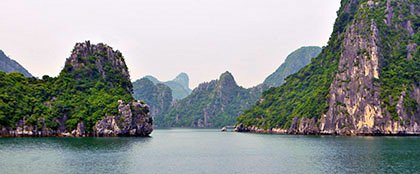 Halong Bay is a UNESCO World Heritage site riddled with towering Karst formations. The more than 1,600 islands have become a favorite among travelers who enjoy snorkeling, diving, sea-cruises, and cave excursions.
Notre Dame Basilica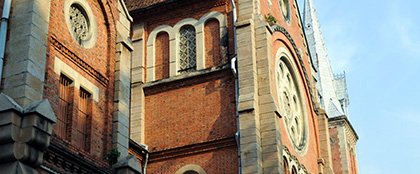 One of the brightest legacies of French-colonial Vietnam, the Notre Dame Cathedral was constructed from materials imported from France in the last 19 th century. Though damaged by the Vietnam War, some of its original stained glass remains.
Mekong Delta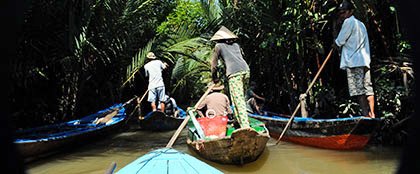 Often called the "Rice Basket" of Vietnam, the Mekong Delta is the country's leading agricultural sector, and one of the world's most diverse biospheres. Some 10,000 species of animals inhabit this region, and boat cruises along the patchwork of streams that wind through the delta are popular excursions.
Reunification Palace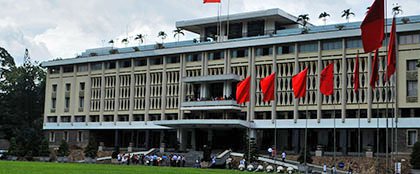 Erected in 1873 for French colonial governors, the Reunification Palace (sometimes Independence Palace) was the site of some of the most important moments in Vietnam's history.
Cu Chi Tunnels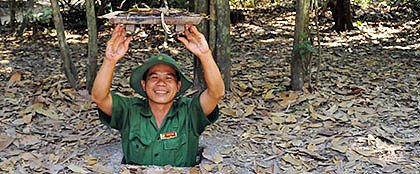 The miles of mostly hand-dug tunnels just outside of Ho Chi Minh City were turned into a memorial after the conclusion of the Vietnam War. The hidden passages include kitchens, living quarters, and triage centers that travelers can explore.
Cai Rang Floating Market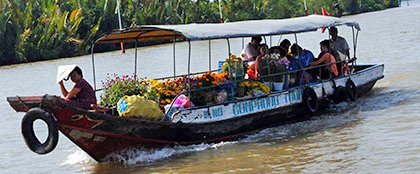 Nearly half of Vietnam's considerably large fishing fleet trolls the waters around the Mekong Delta, one of the most fertile regions in Southeast Asia. The region's seemingly endless bounty is on sale daily in this traditional floating market on the Can Tho River, which is best reached during a river cruise.
Vietnam Travel Tips
Heavily influenced by Buddhist traditions, the country's reverent citizens still follow many ancient traditions that have been handed down through the centuries. Follow these simple guidelines and you will certainly do well on your immersive journey into Vietnam.
Behavior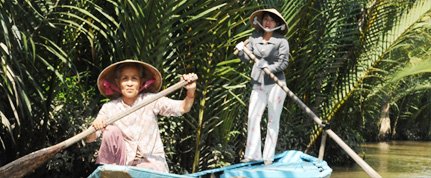 1. Head and Feet: The body is seen as a manifestation of the spirit in Vietnam. The head is the highest and most sacred point of the body, and the feet are the lowest. While traveling in Vietnam, it is best to refrain from touching anyone else's head, and your feet should never be used to point at or touch anything considered sacred or of value.

2. Voice and Veneer: As with most Buddhist cultures, Vietnam's people take care to remain "cool, calm, and collected" at all times, and travelers who do the same will find their vacation much more rewarding.
Buddhism in Vietnam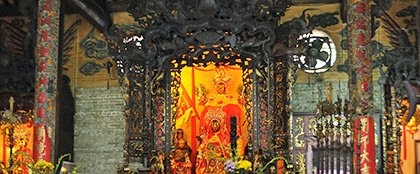 1. Buddha: Buddha images are highly revered in Vietnam. Travelers should refrain from climbing on statues, and should never sit in front of a Buddha figure unless you can curl your legs to avoid pointing your feet toward the sacred image.

2. Monks: Buddhist monks in Vietnam occupy a highly venerated position in society, and are given the utmost respect. Local customs forbid the monks from touching or accepting gifts directly from women. Monks are also forbidden from shaking hands with anyone. It is important to note these customs are observed both on and off temple grounds throughout the country.
Clothing Choice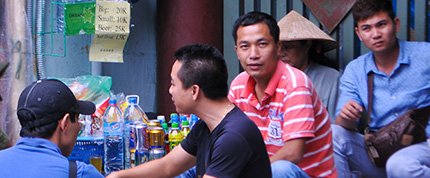 1. Beachwear: Vietnam's culture is conservative, and even during the hottest weather men and women tend to wear pants and shirts with long sleeves. To avoid attracting unwanted in attention, refrain from wearing beachwear when in public areas outside of swimming pools or beach destinations.

2. Temples: Though Buddhist temples in Vietnam do not enforce dress codes as strictly as temples in other Southeast Asian destinations, it's best to dress in modest clothing when visiting religious structures in Vietnam.

3. Shoes: Please remove your shoes before entering homes, offices, or temples in Vietnam.
Money in Vietnam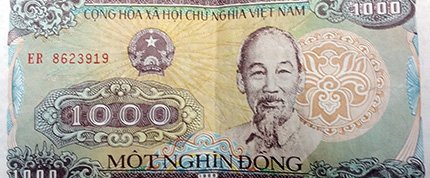 1. The Dong is Vietnam's official currency. Dong banknotes are available in denominations of 100, 200, 500, 1000, 2000, 5000, 10,000, 20,000, 50,000, 100,000, 200,000, and 500,000.

2. U.S. Dollars maybe accepted at a number of establishments, but we always recommend using local currency for any transactions in Vietnam.

3. Credit cards are accepted in most high-end hotels and restaurants in larger cities like Hanoi, but smaller establishments, businesses, and markets will likely be cash only.
Transportation in Vietnam
Our tours are designed to maximize our guests' time spent exploring Vietnam's treasure trove of ancient art, architecture, and culture; not traveling between destinations. As such, we typically recommend using air travel for any destination that would take more than four hours to reach overland. Though Vietnam offers a plethora of ways to travel cheaply, discerning travelers are more concerned with timely arrivals and departures, and hassle free transit. Our expert knowledge of Vietnam's ever changing roadways and airways allows us to efficiently and economically route you to anywhere in the country.
Vietnam Travel FAQ
Do I need a visa to travel to Vietnam?
Our local offices help guests that book with us arrange visas on arrival, which are acquired at the immigration counter in the airport. Speak with one of our Travel Specialists to learn more about how we can aid you in this process.
What's the best way to travel between destinations in Vietnam?
We typically recommend that our guests choose air-travel to reach destinations that would take more than a few hours to reach in a vehicle. Reliable and safe regional flights are an efficient and cost-effective manner of travel in Vietnam.

That being said, land travel experiences in Vietnam are some of the country's most unique adventures, and for the right guest a road-trip through Vietnam's largely undeveloped countryside is a must-do.
Are baggage restrictions and weights the same on flights in Vietnam as they are in the U.S. and Europe?
Baggage rules typically vary between international and domestic airlines. Your Travel Specialist can help you determine appropriate sizes and weights for checked and carry-on luggage for your Vietnam trip.
Can you eat the street food in Vietnam?
We do not recommend that our guests eat street food in any country, but many of our guests choose to selectively indulge in the local street cuisine without any issues.
Can I drink the tap water in Vietnam?
When traveling abroad, it's best to only drink bottled water.
Can I use my personal cellphone in Vietnam?
SIM enabled cellular phones can be connected to local networks by purchasing a local SIM card, which requires photocopies of your passport photo and visa pages, and a passport photo. An increasing amount of western mobile networks are offering international roaming in the country. Check with your mobile provider for more information.
Is Wi-Fi readily available in Vietnam?
Wi-Fi access is available in many locations, but connection speeds typically vary greatly across the country. Your hotel will typically have the best speeds.
What plug adapters do I need while traveling in Vietnam?
Most hotels in Vietnam use A,C, or G - type wall sockets. Most European and U.S. consumer electronics use A-type plugs, but it's best to bring along a generic plug-adapter kit while traveling in Vietnam.
Does Vietnam have western-style toilets?
Yes. Modern bathrooms are typical throughout Vietnam.
Are western necessities and conveniences readily available in Vietnam?
Western goods are fairly easy to find across the country.
Travel Insurance FAQ
Should I buy travel insurance for my trip to Vietnam?
Travel insurance is recommended for all our guests traveling to Vietnam.
How much does travel insurance cost for a Vietnam trip?
Travel insurance premiums are determined by the age of travelers, and the total cost of the booked tour.
How long do I have to purchase travel insurance before my trip to Vietnam?
Travel insurance can be purchased up to the day before your departure; however, if you wish to have preexisting conditions insured, you must purchase the insurance package within 14 days of booking the tour.
Are there additional charges for purchasing travel insurance through Easy Tours?
Travel insurance purchases through Easy Tours are a service we extend to our guests for no additional charges.
Are the travel insurance premiums I received per person?
Your travel insurance premiums include coverage for every person listed.
Can I cover the costs of international airfare with travel insurance?
International flight costs can be covered, and we recommend you do so.
Can I mix and match the travel insurance options?
Travel insurance premiums cannot be customized.
Can you file my travel insurance claim for me?
No. Claims must be filed by the claimant.
Guest Reviews
Harriet - May - 2015

Thank you so much! We had a fabulous time. I wanted to collect some thoughts from my father before we wrote. He was very impressed.

The guides were great. Nam, our guide in Hanoi was particularly good. They were very attentive, fluent in English and personable. They also took good care of my father - they recognized his limitations and made sure he didn't put himself in a bad situation. This made the trip more enjoyable for me!

Loved the itinerary - we would have made only a couple of small tweaks. In the Mekong Delta (the day trip), they scheduled a horse and buggy ride. It was unnecessary and felt awkward. It felt inauthentic and kind of touristy. We would have skipped it. Also the Marble Mountains, which I loved, was very difficult for my father. Lots of walking, etc. Our guide (Cu) took him separately on the elevator, but still it was a little rocky. He adjusted so it wasn't a problem. But he couldn't really enjoy it.

The hotels were incredible and the guides provided us with good food recommendations. We had a great time!

Thanks again!

Back to Top