The Best Luxury Tours of Laos
Laos is sometimes forgotten by visitors to Southeast Asia, probably because it has no beaches or large cities. This is a mistake, for it is one of the most serene, unspoiled and beautiful countries on Earth, and the peaceful yet colorful Buddhist culture is alone worth a visit.

Its landscape is the stuff of dreams; characterized by karst mountains that stand tall over green valleys and rice fields, and a glistening network of winding rivers. Other natural wonders like waterfalls and caves are common place with in its idyllic ecosystem.

Laos offers a wide variety of fun and relaxing activities for its visitors, from elephant experiences, to boat trips, to swimming in natural pools created by waterfalls. Laos also features many small ethnic villages throughout its countryside, where the inhabitants' lifestyles take us back to a simpler time.

The city of Luang Prabang is an incredibly laid-back and picturesque town that tempts visitors to stay for a while and enjoy the ambience and culture, as well as the natural beauty of the surroundings countryside. Laos serves as a great microcosm of Southeast Asian land and culture, and should be a part of any trip to the region. Guests selecting our Luxury Level of hotels can also ask a dedicated U.S. based Laos expert to design a tour to their preferences.
The passion and knowledge of our staff and the extreme attention to detail that we put into every aspect of your Laos tour is what separates us from the rest. We only offer mid-level to ultra-luxury travel, and so we never compromise on our level of service so as to compete with budget Laos travel agents that focus solely on price. About 70% of our guests are repeat customers and referrals because they recognize that we have the best values for the level of travel and service we provide.

The following sample itineraries exemplify our commitment to creating unique, luxurious Laos holidays. Travelers can use our interactive tour design tools or consult with a Laos Specialist to create a customized itinerary.

We also offer a unique set of pre-made Laos vacation itineraries for our guest's to choose from. The selected itineraries can been chosen based on a guest's time of travel, duration of visit, and travel goals. These Laos tour packages can be customized by a Travel Specialist as needed.

The best Laos tours help explorers meet their travel goals and absorb the local culture while maintaining world-class levels of service. By speaking with our dedicated Travel Specialists, we can help you tailor a Laos holiday to your exact specifications. + Read More
About Laos
With year-round warm weather, Laos is an inviting destination regardless of the season. The region sees the most travelers during the months between November and March during the drier season.
This incredibly bucolic region is most often visited between November and March when the islets that dot the Mekong River are easy to access.
Central Laos sees the most travelers during the temperate dry season that runs between November and March each year when the weather is best for sightseeing.
Best Things to See in Laos
Genial locals and a rustic atmosphere are what travelers often remember the most when returning from Laos, but the country is also home to an intriguing mix of ancient ruins, secret cave shrines, gushing rivers, and verdant jungles that are sure to delight. The following is a brief overview of Laos's must-see attractions.
Laos's Cuisine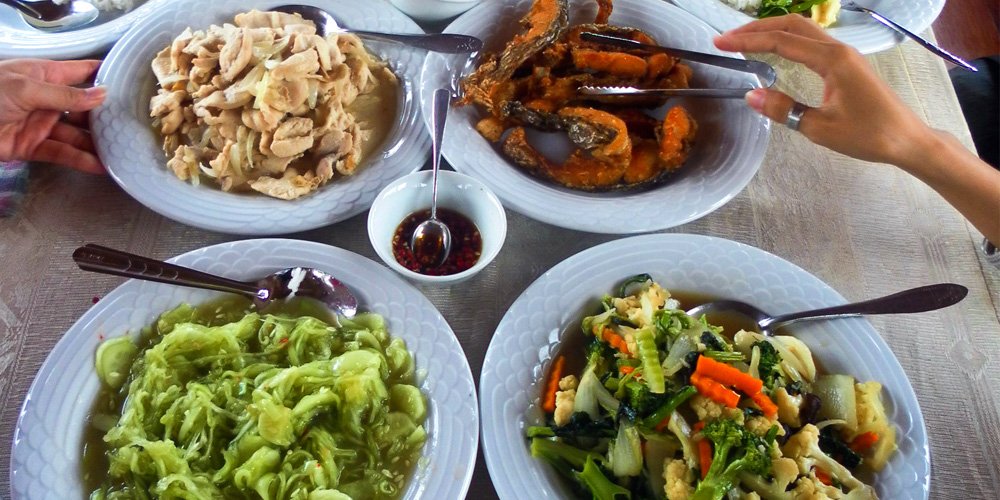 While the cuisine in Laos varies by region, no dish is considered complete without a generous helping of sticky rice - a glutinous strain eaten predominately in Southeast Asia. Tangy curries, crispy noodles, and minced-meat salads are common place throughout the country, as well as many French inspired dishes that became popular when Laos was part of French Indochina.
Transportation in Laos
Our tours are designed to maximize our guests' time spent exploring Laos's treasure trove of ancient art, architecture, and culture; not traveling between destinations. As such, we typically recommend using air travel for any destination that would take more than four hours to reach overland. Though Laos offers a plethora of ways to travel cheaply, discerning travelers are more concerned with timely arrivals and departures, and hassle free transit. Our expert knowledge of Laos's ever changing roadways and airways allows us to efficiently and economically route you to anywhere in the country.
Laos's affordable and reliable air companies allow us to quickly and effectively route our guests between destinations. We typically recommend booking a flight for any destination that would require more than four hours spent driving over land to reach.
For land travel in Laos, we provide all of our guests with a private, luxury vehicle. Individuals or couples traveling with us are chauffeured in a high-end sedan, while large groups traveling together reach their destinations in a luxury coach.
Laos Travel Tips
Heavily influenced by Buddhist traditions, the country's reverent citizens still follow many ancient traditions that have been handed down through the centuries. Follow these simple guidelines and you will certainly do well on your immersive journey into Laos.
1. Head and Feet: The body is seen as a manifestation of the spirit in Laos. The head is the highest and most sacred point of the body, and the feet are the lowest. While traveling in Laos, it is best to refrain from touching anyone else's head, and your feet should never be used to point at or touch anything considered sacred or of value.

2. Voice and Veneer: As with most Buddhist cultures, Laos's people take care to remain "cool, calm, and collected" at all times, and travelers who do the same will find their vacation much more rewarding.
1. Buddha: Buddha images are highly revered in Laos. Travelers should refrain from climbing on statues, and should never sit in front of a Buddha figure unless you can curl your legs to avoid pointing your feet toward the sacred image.

2. Monks: Buddhist monks in Laos occupy a highly venerated position in society, and are given the utmost respect. Local customs forbid the monks from touching or accepting gifts directly from women. Monks are also forbidden from shaking hands with anyone. It is important to note these customs are observed both on and off temple grounds throughout the country.
1. Beachwear: Laos's culture is conservative, and even during the hottest weather men and women tend to wear pants and shirts with long sleeves. To avoid attracting unwanted in attention, refrain from wearing beachwear when in public areas outside of swimming pools or beach destinations.

2. Temples: Though Buddhist temples in Laos do not enforce dress codes as strictly as temples in other Southeast Asian destinations, it's best to dress in modest clothing when visiting religious structures in Laos.

3. Shoes: Please remove your shoes before entering homes, offices, or temples in Laos.
1. The Lao Kip is Laos's official currency. Lao Kip banknotes are available in denominations of 500, 1000, 2000, 5000, 10,000, 20,000, 50,000 and 100,000.

2. U.S. Dollars maybe accepted at a number of establishments, but we always recommend using local currency for any transactions in Laos.

3. Credit cards are accepted in most high-end hotels and restaurants in larger cities like Vientiane, but smaller establishments, businesses, and markets will likely be cash only.
Laos Travel FAQ
Travelers from the U.S. and Europe can procure tourists visas on arrival. The process requires 2 passport photos and a small fee of about $5 USD. Find out more on the country's tourism website.
http://www.tourismlaos.org/
We typically recommend that our guests choose air-travel to reach destinations that would take more than a few hours to reach in a vehicle. Reliable and safe regional flights are an efficient and cost-effective manner of travel in Laos.

That being said, land travel experiences in Laos are some of the country's most unique adventures, and for the right guest a road-trip through Laos's largely undeveloped countryside is a must-do.
Baggage rules typically vary between international and domestic airlines. Your Travel Specialist can help you determine appropriate sizes and weights for checked and carry-on luggage for your Laos trip.
We do not recommend that our guests eat street food in any country, but many of our guests choose to selectively indulge in the local street cuisine without any issues.
When traveling abroad, it's best to only drink bottled water.
SIM enabled cellular phones can be connected to local networks by purchasing a local SIM card, which requires photocopies of your passport photo and visa pages, and a passport photo. An increasing amount of western mobile networks are offering international roaming in the country. Check with your mobile provider for more information.
Wi-Fi access is available in many locations, but connection speeds typically vary greatly across the country. Your hotel will typically have the best speeds.
Most hotels in Laos use a semi-universal A/C-type wall socket that will accept the most common plugs from the U.S. and Europe. Purchasing a plug adapter kit will ensure you have everything you need while traveling in Laos.
Yes. Modern bathrooms are typical throughout Laos.
Western goods are fairly easy to find across the country.
Travel Insurance FAQ
Travel insurance is recommended for all our guests traveling to Laos.
Travel insurance premiums are determined by the age of travelers, and the total cost of the booked tour.
Travel insurance can be purchased up to the day before your departure; however, if you wish to have preexisting conditions insured, you must purchase the insurance package within 14 days of booking the tour.
Your travel insurance premiums include coverage for every person listed.
International flight costs can be covered, and we recommend you do so.
Travel insurance premiums cannot be customized.
No. Claims must be filed by the claimant.
Laos Destinations
Luang Prabang Luxury Travel Information
Luang Prabang is the ancient royal capital of Laos, and a UNESCO World Heritage Site.
A city of brightly colored Buddhist temples, traditional Laotian homes nestled beside colonial French architecture, and river banks bursting with palm trees, Luang Prabang is the heart of the country's cultural heritage. UNESCO calls the city a remarkably well-preserved townscape that illustrates the blending of colonial and traditional Laotian cultures. Framed by rugged, green mountains and ringed by the Mekong and Nam Khan Rivers, Luang Prabang is the crown jewel of Laotian travel destinations.
The amazing sights and experiences in the Luang Prabang region include
Kuang Si Falls
,
Mount Phou Si
,
Pak Ou Caves
,
Royal Palace Museum
,
Wat Wisunarat
and the ancient alms ritual called
Tak Bat
.
Luang Prabang's sleepy charm is readily apparent even at dawn when the sienna-clad Buddhist monks that inhabit city's numerous temples file into the streets for the daily alms ceremony. Buddhist monks are prohibited from earning money, and the gifts of rice they receive from tourists and villagers each day is their main source of nutrition.
Mount Phou Si (Phu Si) is the high hill at the center of Luang Prabang. Wat Tham Phou Si and Wat Chom Si are two Buddhist shrines located on the hill. A popular destination with both the local population and travelers because of the spending full views of the city from the summit, Mount Phou Si is a particularly stunning vantage point as the sun sets over Luang Prabang. The Vipassana Temple, a Buddhist meditation retreat, is easily spotted from the hill top.
Haw Kham is Luang Prabang's former Royal Palace. A French colonial structure completed in 1904 for the King Sisavang Vong and his family, the palace is a mixture of traditional Laotian accents and French design. After the royal family was removed from power in 1975, the palace was converted into a national museum. The Phra Bang, a standing Buddha image believed to protect Laos from misfortune, resides inside the incredibly ornate Haw Pha Bang royal temple inside the compound.
Wat Xieng Thong is one of Luang Prabang's oldest Buddhist monasteries. Built in 1560 by King Setthathirath near the convergence of the Mekong and Nam Khan rivers, Wat Xieng Thong's manicured grounds feature more than 20 monastic buildings in a garden ornamental shrubs, trees, and flowers.
The verdant mountains and forests that surround Luang Prabang have a wealth of beautiful areas to discover and explore. The Kuang Si Butterfly Park and the Kuang Si Waterfalls are just two of the nearby locations that make for excellent day trips from the city. The Pak Ou Caves, overlooking the Mekong River, are filled with hundreds of Buddha images. The reverent atmosphere that permeates the ancient cave shrine draws more visitors each year, and is an excellent stop during a river cruise along the Mekong.
Best Time to Visit Luang Prabang
: The months between November and May during the cooler dry season have the best sightseeing weather in Laos. Temperatures begin to rise in June, and the heat stays through October, but the quick rainstorms that are common during the second half of the year help dampen the heat considerably.
How to get to Luang Prabang
: Luang Prabang is the capital of Luang Prabang Province in central northern region of Laos. It can be reached directly by an international flight, or alternatively overland from the country's capital of Vientiane.
Luang Prabang Highlights
: Luang Prabang is a vibrant city of ancient traditions that blends Laotian style and colonial architecture into a delightful cultural cocktail that's the highlight of any luxury tour of Laos. The city's splendid architecture, rich museums, and thriving Buddhist culture means there's something for every traveler to discover here.

Appropriate Attire: Western-style clothing options are fine to wear while exploring the town, but if you should venture into any of the numerous Buddhist temples, shrines, or monasteries in the area, local customs require visitors to wear modest clothing. Travelers should cover shoulders to knees in cool clothing, and be prepared to remove their shoes in certain areas within religious compounds.
Vientiane Luxury Travel Information
Quiet, relaxing, and uncrowded, Vientiane, the administrative seat of Laos, is everything that Southeast Asia's other capital cities aren't.
Wide, shady boulevards left by the French during their colonial rule over Laos during the late 19th century make Vientiane one of the most walkable cities in the region. The colonial buildings, aging but still well intact, are brimming with boutique shops and cafes selling locally crafted goods and excellent cuisine garnished with French flair. The riverfront promenade, another beautiful French holdover, is the center of Vientiane's leisurely pace of life. A growing number of bars and restaurants, some in refurbished colonial buildings while others are new construction, are springing up along the riverfront to cater to the ever growing number of tourists visiting the city. As dusk turns the Mekong River gold and bathes the city in purple light, a lively night market pops up on the promenade where vendors sell everything from household goods and travel souvenirs to freshly prepared local delicacies.
The amazing sights and experiences in the Vientiane region include the
Laos Patuxai
monument and
Pha That Luang
.
Buddhist temples, ranging from simple to opulent, are strewn throughout the city of Vientiane. Phat That Luang dates back to the 13th century when it was erected by the Khmer Empire of present day Cambodia as a Hindu temple. Rebuilt in the middle of the 16th century as a Buddhist shrine, Phat That Luang's central feature is a gold painted stupa shrine thought to contain a bone relic left from Buddha's cremation.
Wat Si Saket is a Buddhist pagoda built in the Thai style of architecture with a tiered roof design and central hall of pillars. There is a small museum on the 19th century temple grounds, and 2,000 Buddha sculptures made from ceramic and silver are cloistered near one of the walls.
In a city with one of the lowest profiles in Asia, barely a handful of buildings have been given permission to reach more than 10 stories, the Patuxai Monument is easily spotted. A Laotian version of the Arch De Triomphe with four gates instead of two, the Patuxai Monument commemorates the country's war dead.
Best Time to Visit Vientiane
: The weather in Laos is generally at its best during the temperate months between November and May. By June the temperatures are rising along with greater chances of daily rain showers that last through October.
How to get to Vientiane
: The city of Vientiane is the capital of Laos located across the winding Mekong River from the border of Thailand. Travelers on Laos tours can reach the city by direct international flight to the Wattay International Airport, or travel overland in a private vehicle from Luang Prabang to the north.
Vientiane Highlights
: Vientiane's charms are a subtle mixture of colonial French culture and real Laotian river life that are easily appreciated. This quaint city, seemingly purpose built for sipping cool drinks or hot coffee in cozy garden cafes, is one of the most relaxing destinations for any luxury tour of Laos.

Appropriate Attire: While western-style clothing is acceptable, Laotian culture is still fairly conservative with both men and women typically dressing in clothes that cover shoulders to knees. If you're planning to visit any of Vientiane's Buddhist temples or shrines, it's best to dress modestly while on consecrated ground.
Laos Sights
Kuang Si Falls
The Kuang Si Falls are one of the most popular excursions near the city of Luang Prabang.

Visitors can explore the three tiers of Kuang Si Falls via several walking trails that wind through the jungle. Turquoise water cascades into picture perfect pools that are often filled with travelers and locals looking to escape the warm daytime temperatures. As visitors approach the area they see the final tier of the Kuang Si Falls is a 200 foot cascade that pours into a large swimming hole framed by a pair of foot bridges. From here, it's easy to take a network of trails that wander through the jungle to the higher levels of the falls. The higher ranges of the falls are usually less crowded, and have spectacular views of the surrounding countryside as well as a number of perfect swimming holes.

The Kuang Si Butterfly Park is located just before the path that leads to the falls. Visitors can take a guided walking tour of the beautiful netted gardens to learn about the hundreds of species of butterflies that inhabit Laos.
Best Time to Visit Kuang Si Falls
: Visit the area between November and May for the best sightseeing weather. As warmer weather blows through in June, the Kuang Si Falls become an increasingly popular destination among both the local population and travelers. The warmer weather continues through October, and the extra rain fall that comes during the latter half of the year makes the Kuang Si Falls and the surrounding forests particularly beautiful.
How to get to Kuang Si Falls
: The Kuang Si Falls are about 12 miles from the city of Luang Prabang in north central Laos. The area is typically reached overland in a private vehicle while on a Laos tour, but a cruise up the Mekong River to the area is excellent alternative to the land route.
Kuang Si Falls Highlights
: The Kuang Si Falls are one of the most popular day trips outside the city of Luang Prabang. A splendid location to beat the daytime heat anytime of the year, the falls are one of the most beautiful locations in Luang Prabang Province, and should not be missed on a luxury tour of Laos.

Appropriate Attire: Swimwear is recommended. Bring a good pair of shoes if you'd like to explore the trails that lead to the other tiers of the waterfalls.
Mount Phou Si
A high hill capped by a glittering Buddhist shrine, Mount Phou Si (sometimes Phousi or Phu Si) is the city of Luang Prabang's central landmark.

Local legends tell of a powerful naga, a snakelike animist spirit often associated with Buddhism in Southeast Asia, which once inhabited the hill. Today, the sacred hill is best known for the golden shrine that caps the summit, That Chomsi, and the stunning views of Luang Prabang and the city's surrounding countryside.

There are multiple paths to ascend Mount Phou Si, but climbing the 329 stone steps of the northern route is the most popular way for travelers to reach the summit. Wat Tham Phou Si is about halfway along the path to the top, and the temple is a great place to rest before finishing the climb to the top.
Best Time to Visit Mount Phou Si
: The climb to the summit of Mount Phou Si best made in the early morning or late afternoon to catch the majestic views during dawn or sunset. The area's cooler dry season between November and May has the best sightseeing weather. As June rolls in so do higher temperatures, which, along with increased chances of rain, continue through October.
How to get to Mount Phou Si
: Mount Phou Si is the city of Luang Prang's central feature rising from the middle of the city like a crown. The summit can be reached from several different paths that run through the forests on the sides of the sacred hill.
Mount Phou Si Highlights
: Beautiful Buddhist temples and stunning views await travelers on mount Phou Shi. It's a must-see while exploring the ancient city of Luang Prabang on a luxury tour of Laos.

Appropriate Attire: As you'll be visiting several Buddhist temples as part of your explorations of Mount Phousi, it's best to dress in modest clothing that covers thighs and shoulders for this excursio
Pak Ou Caves
The Pak Ou Caves are a centuries old Buddhist pilgrimage sight near Luang Prabang that act as a kind of graveyard for damaged and decayed Buddha images.

For hundreds of years, the Buddhist inhabitants of north central Laos have made the often arduous journey along the Mekong River to deposit worn and broken Buddha images in a sacred cave. Today, after unbroken centuries of the practice, more than 3,000 statues rest inside two of the numerous limestone caves that riddle the bank. The images range from tiny teakwood carvings that might have once occupied a shrine in a larger household to human-sized figures that could have been central shrine images.

The Pak Ou Caves are the busiest during Laos New Year, when the largest numbers of pilgrims visit the ancient shrine. Though damaged, the images of Buddha are still highly venerated, and thousands of pilgrims spend the festival carefully washing the ancient religious icons in a reverent ceremony believed to bring spiritual merit to the devout.
Best Time to Visit Pak Ou Caves
: The best sightseeing weather in north central Laos is during the temperate season that runs from November to May. Temperatures begin to climb in June, and the heat continues into October. The extra rainfall that comes with the higher temperatures during the second half of the year restores the verdant countryside of Laos to a lustrous green.
How to get to Pak Ou Caves
: The Pak Ou Caves are about 5 miles north of Luang Prabang along the Mekong River. While it is possible to reach the caves overland, a boat cruise along the Mekong River is the preferred method for guests on our luxury tours of Laos to reach the destination.
Pak Ou Caves Highlights
: The caves have an intriguing atmosphere that's become a beacon for travelers coming through the area. A lazy boat cruise along the Mekong is the preferred route for most tourists to reach the area, and the relaxing journey up the calm river is often referred to as the highlight of the journey.

Appropriate Attire: Dress for warm weather in light clothing, but remember the cave is sacred to Buddhist practitioners, and visitors should wear clothing that covers their shoulders, arms, and thighs while walking on holy ground.
Royal Palace Museum
The Royal Palace Museum is Luang Prabang's main repository of cultural and royal artifacts.

Usually referred to as Haw Kham (The Golden Hall), The Royal Palace Museum was erected by the French between 1904 and 1909 for King Sisavang Vong and his family while Laos was under the protection of French Indochina. Forgoing the traditional Laotian building materials of teak and rosewoods, the palace is mostly a brick and mortar structure with accents derived from traditional Laotian designs.

The compound occupies the center of a spacious garden riddled with palm trees and decorative plants. Though the building is just over a century old, its displays reach much further into the annals of Laotian history. Visitors can admire excellent displays of weapons, statues, paintings, and personal items left by the royal family. The Throne Hall contains the country's crown jewels, and the Haw Pha Bang royal chapel houses the country's paramount Buddha image, believed to be over 2,000 years old, and seen as the guardian spirit of Laos.
Best Time to Visit Royal Palace Museum
: The cooler, dry season between November and May has the best sightseeing weather for exploring Laos. Higher temperatures arrive with the beginning of the rainy season in June and continue into October, but the rain showers that are common during this period provide a welcome relief from the heat.
How to get to Royal Palace Museum
: The Royal Palace Museum is located in the former royal capital of Luang Prabang in central Northern Laos. Our guests typically reach the compound along with their English speaking guide in a private vehicle after being picked up at their hotel.
Royal Palace Museum Highlights
: History, art, and cultural enthusiasts appreciate the Royal Palace Museum the most, but no luxury tour of Laos would be complete without the insightful look into recent and ancient history the museum provides its visitors.

Appropriate Attire: The royal Palace Museum has a strict dress code requiring visitors to dress in clothing that covers shoulders to thighs. Areas within the compound may require you to remove your shoes before entering.
Wat Wisunarat
Wat Wisunarat (Wat Visoun) is a Buddhist temple in Luang Prabang that dates back to the early 16th century.

Founded in 1513 by King Visoun, the temple's central feature is a rounded stupa made from brick and mortar. The gourd-like profile of the shrine, almost unheard of in Laos, earned it the nickname "The Watermelon Stupa."

During the Haw Wars that swept through much of Southeast Asia during the 19th century, Luang Prabang was taken by a band of raiders, who were rebel soldiers turned bandits after the Taiping Rebellion in China. Called "Black Flag Riders" because of their preference of using black signal flags for cavalry maneuvers, the raiders extensively looted and burned the city, razing all but a handful of the city's beautiful Buddhist shrines and temples to the ground. Wat Wisunarat faired particularly poorly, and was left in ruin until restoration work was carried out by the French in the late 19th and early 20th centuries.
Best Time to Visit Wat Wisunarat
: The weather in Laos is generally the best between November and May during the country's long dry season. Temperatures begin to climb in June as the rainy season takes hold of the land. The increased temperatures and chances of rain last through October, but the extra precipitation during these months turns the nation's forests a vibrant green hue.
How to get to Wat Wisunarat
: Wat Wisunarat is located in the city of Luang Prabang in north central Laos. Our guests typically reach the temple on foot or in a private vehicle alongside their guide depending on their itinerary for the day.
Wat Wisunarat Highlights
: While not as well preserved or restored as other Buddhist sanctuaries in Luang Prabang, Wat Wisunarat has plenty of charm. Its unique architecture and intriguing history make it an excellent stop for any luxury tour of Laos.

Appropriate Attire: As Wat Wisunarat is an active Buddhist temple, it's important for travelers to dress appropriately in modest attire in keeping with local traditions. Clothes that cover at least shoulders and thighs are a must, and some areas in the compound will require guests to remove their shoes before crossing the threshold.
Tak Bat
Rain or shine, the Buddhist monks that inhabit the city of Luang Prabang in Northern Laos perform an ancient alms ritual called Tak Bat. Hundreds of monks spend their morning quietly collecting donations of rice, vegetables, and the occasional small denominations of money to sustain them.

Usually starting just before dawn, the orange-clad monks can easily be spotted as they quietly walk throughout the city collecting donations from both the locals and an ever increasing number of travelers wanting to participate in this intriguing ancient ritual.
Best Time to Visit Tak Bat
: Tak Bat takes place every morning in the city of Luang Prabang, typically starting around 5:30 a.m.
How to get to Tak Bat
: The Tak Bat ritual takes place daily across the city of Luang Prabang.
Tak Bat Highlights
: This ancient alms ritual has proved increasingly popular with travelers of all stripes in recent years. Often cited as a highlight of a Laos vacation, Tak Bat is a unique chance for cultural immersion that should not be missed. That being said, travelers should take extra care to be respectful during the service as Tak Bat is an integral part of the city's monastic system, as well as cornerstone of the laypeople's faith in Luang Prabang.

Appropriate Attire: Please take extra care to dress appropriately in clothing that covers shoulders, arms, and knees while watching or participating in Tak Bat to keep from offending the monks or their supporters.
Laos Patuxai
Patuxai is a war memorial commemorating Laotians who died in combat.

Modeled after the Arc De Triomphe in Paris, the Patuxai is a concrete structure with four arched gateways adorned with traditional Laotian designs and sculptures. The monument rests in the center of a roundabout lined with palm trees. A shallow reflecting pool with dancing fountains rings the structure.

Walking through the archways gives visitors access to Patuxai's upper levels via two staircases. A visitors' center occupies the second floor of the structure, and the third contains a museum that's worth a look, but the real draw to the structure is the views of the city from the four corner towers.

The Patuxai monument was completed in 1968 using money and materials donated by the U.S. government to build a new airport. This small slight by the former royal government of Laos earned the structure the nickname "The Vertical Runway."
Best Time to Visit Laos Patuxai
: Laos's weather is generally the best between November and May during the dry season. June is marked by elevating temperatures and increased chances of sudden rains that continue into October.
How to get to Laos Patuxai
: Patuxai is located in a roundabout in the middle of Lane Xang Road not far from the Presidential Palace in Vientiane's business district. Guests on our luxury tours of Laos can reach the monument in a private vehicle with their English speaking guide while touring the city of Vientiane.
Laos Patuxai Highlights
: Patuxai is an intriguing blend of French architecture and Laotian style. The manicured park grounds and beautiful lotus pools make for an excellent stroll in the afternoons, but the real draw is the view of Vientiane from the four towers.

Appropriate Attire: Dress in light clothing, and wear a pair of good shoes to make the climb up the stairs to Patuxai's tower.
Pha That Luang
Pha That Luang is the city of Vientiane's most iconic Buddhist shrine and temple.

The structure was first erected over the remains of a 12th century Khmer Empire Hindu sanctuary in 1566 at the behest of King Setthathirath when he moved his court from the former capital of Luang Prabang.

Over the course of the next three centuries, Vientiane was repeatedly sacked by invaders from neighboring kingdoms. After a successful invasion in 1828, the Kingdom of Siam (Thailand) sacked the city and its temples, and left the entire area in ruins to be reclaimed by the jungle. French colonial architects attempted to rebuild the structure in 1900, but the building works failed because of poor design. A second attempt in the 1930s succeeded, but after an air raid during the Franco-Thai War in 1940, Pha That Luang had to be rebuilt again.

The temple's central feature is a 146-foot-heigh stupa painted in gold thought to contain a bone relic left from the cremation ceremony of Buddha. The shrine is thought to have been originally covered in gold, but the precious metals were likely removed during any one of the numerous invasions that struck the city of Vientiane between the 16th and 19th centuries. Hundreds of Buddha statues line the interior of the compound's walls.
Best Time to Visit Pha That Luang
: In general, Laos's weather is the best for sightseeing during the cooler dry months between November and May. The temperature begins to rise in June, and the hotter weather comes with increased chances of rain that last into October.
How to get to Pha That Luang
: Pha That Luang is located in Vientiane, the capital of Laos. Our guests typically reach the Buddhist temple and shrine in a private vehicle with their English speaking guide while exploring Vientiane on a tour of Laos.
Pha That Luang Highlights
: Phat That Luang occupies a place in Laotian culture as a symbol of perseverance. It's a must-see sight on any luxury tour of Laos.

Appropriate Attire: Laos is predominately Buddhist, and both sexes tend to dress modestly in clothing that covers shoulders to ankles. When visiting Buddhist temples in the country, it's best to dress modestly in keeping with local traditions.