Bangkok Description:
A thrilling mix of modern business and ancient tradition, Thailand's sprawling capital of Bangkok is the first step on a much larger travel experience.

Bangkok is Thailand's largest and most densely populated city with 14 million residents (about 20 percent of the country's population lives within the city limits). Divided into 50 different districts, the country's sprawling capital covers some 1,500 square miles. Unlike many Southeast Asian countries, Thailand was never colonized by the West. Today, the city is a unique blend of dynastic heritage and modern development that offers a distinct flavor travelers on luxury tours of Thailand avidly consume.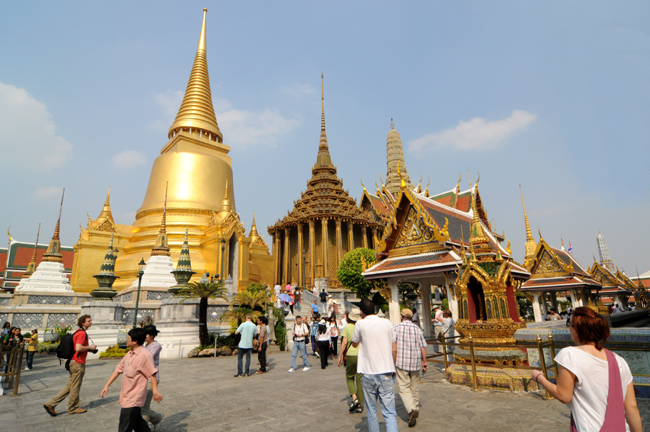 A modern mecca for tourism and business, there's a plethora of sights and activities for travelers on Thailand tours to experience. The Grand Palace, The Thonburi Canals, Jim Thompson's House, and the temple of The Reclining Buddha are just a few of the many must-see sights on travelers' tours in Thailand.
Best Time to Visit Bangkok:
Bangkok is a busy, international city that draws throngs of visitors year round for tours and business. The high season runs from November through February, but the rains in July and August are a welcome relief from the high summer temperatures for travelers and the natives alike.
How to get to Bangkok:
Resting on the Gulf of Thailand, and bisected by the Chao Phraya River, Bangkok is easily navigated by private car service.

Serviced by two airports, Suvarnabhumi Airport and Don Muang Airport, providing international and domestic flights, Bangkok is well connected to the rest of the world.
Bangkok Highlights:
Bangkok is a must for any international traveler. Offering a mix of distinct cultural heritage and modern convenience, Bangkok's streets hold wonders waiting to be explored.
Appropriate Attire:
While Bangkok is a modern metropolis, many of the city's tourist attractions are temples and other sacred places. For most outings western dress is perfectly acceptable, but if you're heading to a shrine or other holy site, it's best to dress conservatively by covering your shoulders, arms, and legs. Many temples and shrines also require visitors to remove their shoes upon entrance.