Grand Palace Description:
A paramount attraction for travelers on luxury tours of Thailand, the opulent Grand Palace of the Thai kings in Bangkok draws crowds year round.

The palace was founded in 1782 by Rama I as the first structure of the king's new dynasty. Having won his crown from quelling the rebellion that unseated King Taksin of Thonburi, Rama I moved to Bangkok to found the capital city of his dynasty that still reigns today. The royal family no longer lives on the palace grounds, but it is still used regularly for both political and religious ceremonies.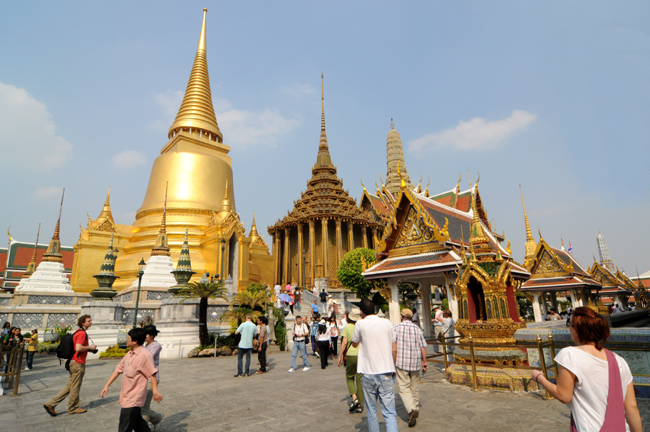 The palace grounds are massive, and feature a mix of traditional Thai architecture and more modern buildings with Western style facades. With dozens of small structures spread throughout the rambling complex, travelers on luxury tours in Thailand can spend hours traversing the palace without taking in everything.

The palace grounds are divided into multiple courts, some of them of still functioning offices for the royalty. The Emerald Buddha resides in its own temple, and is an especially popular among the many holy sites inside the Grand Palace for visitors. Local tradition says the holy relic is the source of the country's prosperity, and the Thai king, or an emissary in his stead, dresses the statue in a specially crafted set of gold clothes for each season as a supplication to continue the country's good fortune.
Best Time to Visit Grand Palace:
Open year round, the palace is almost guaranteed to have crowds of visitors at any hour of the day, but the best time to visit is between November and January to beat the high temperatures.
How to get to Grand Palace:
Located in the heart of the historic Rattanakosin district in Thailand's capital Bangkok, The Grand Palace sits on the Eastern bank of the Chao Phraya River that bisects the city. Private car service makes this historic destination easy to reach and depart.
Grand Palace Highlights:
Massive, opulent, and historically significant, no visit to Thailand would be complete without visiting the former home of Thailand's ruling dynasty.
Appropriate Attire:
The dress code is strictly enforced for all attendees. Shoulders, arms, stomach, and legs must be covered or entrance will be denied by the palace's staff. When entering any of the holy shrines on the grounds, you may be asked to remove your shoes.