Wat Phra Kaew Description:
Housed on the grounds of Bangkok's Grand Palace, Wat Phra Kaew shelters Thailand's famous Emerald Buddha statue.

Located in Bangkok's historic Rattanakosin area, The Temple of the Emerald Buddha covers some 200 acres with its grounds, and has hundreds of small structures enshrining a plethora items including royal ashes. With over 200 years of royal architectural experimentation neatly displayed on its grounds, the temple is a must see on every Thailand luxury tour itinerary.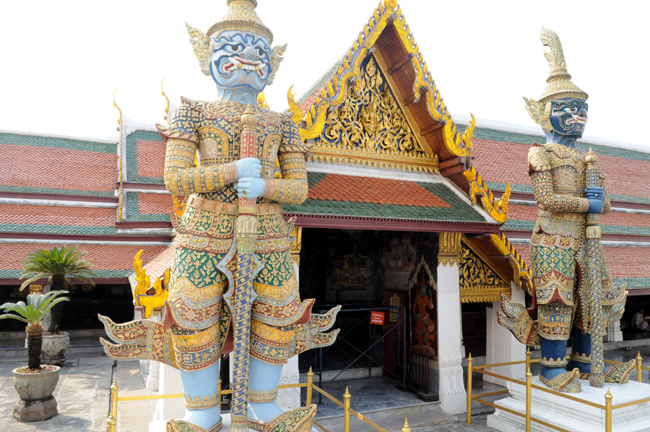 An artifact with a history in many countries around Southeast Asia, The Emerald Buddha has been a part of Bangkok since Rama I came to the shores of the Chao Phraya River to found the Chakri dynasty in 1782.

Three times a year -- during the winter, summer, and rainy seasons -- King Rama IX of Thailand dresses the statue in specially crafted gold clothing as part of a ceremony that local legend says guarantees the country's prosperity.
Best Time to Visit Wat Phra Kaew:
July and August rains offer visitors relief from the high summer temperatures, but the best time to visit the area is during the November through February high season. Early risers can expect to beat some of the crowds by visiting temple when it opens at 8:30 a.m.
How to get to Wat Phra Kaew:
Resting in Bangkok's historic Rattanakosin within the grounds of The Grand Palace, The Temple of The Emerald Buddha can easily be reached using private car service or the modern rail system in Bangkok.
Wat Phra Kaew Highlights:
A sight with rich historical and cultural implications, Wat Phra Kaew's proximity to other historical places in Bangkok mean it's a place no one on a luxury tour of Thailand should miss.
Appropriate Attire:
Attendees are required to dress conservatively by covering their shoulders, arms, and legs while on temple grounds. Some areas will also require you to remove your shoes before entering.