Day 1: International Arrival – Paro – Thimphu. (Lunch and Dinner) Easy Tours will be happy to guide and/or assist you with planning your international flight logistics. The last part of your flight will possibly have offered you spectacular views of the tallest Himalayan Ranges. You are greeted at the Paro airport (it is a tiny airport and a fairly simple process) by your Bhutan Accompanying Tour Director and your chauffeur. They will both accompany you throughout your time in Bhutan. Your Visa for Bhutan is arranged by Easy Tours as part of your adventure with us.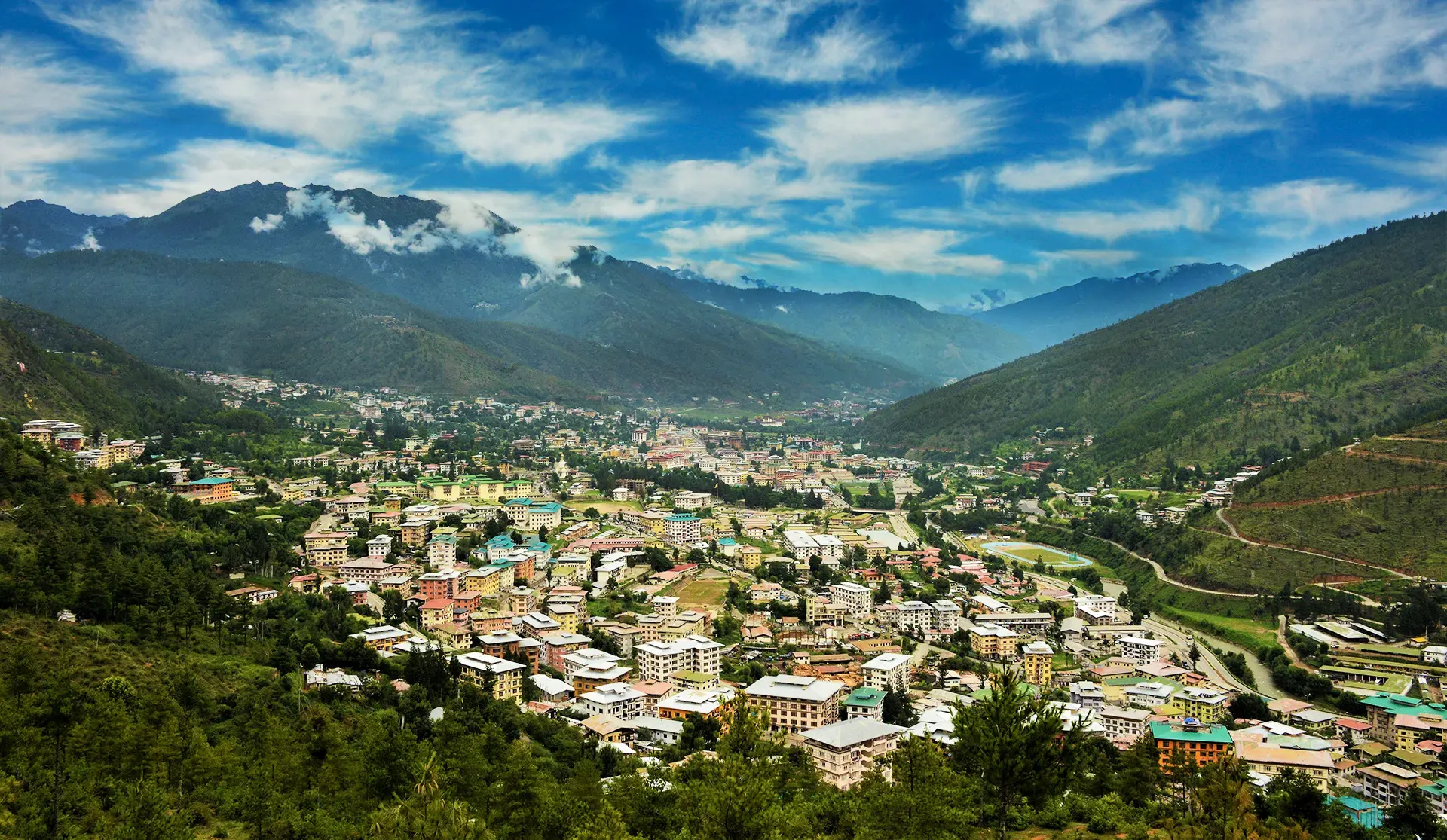 Welcome to one of the last magical kingdoms on the planet, a peaceful country full of devout Buddhists who treasure GNH (Gross National Happiness), not GDP.
Bhutan is a country without traffic lights, and the single traffic control (by a police officer) is at the intersection of the two busiest streets of Thimphu, the capital. Yet traffic is nothing like it is in most of South Asia, partially because there are less vehicles, but also because of the unfailing politeness and consideration of the Bhutanese.
Proceed on the 90-minute drive to your amazing lodge near Thimphu. Much of the drive you will be next to the gushing Thimphu River and Bhutan's incredible scenery will start to captivate you. Your Tour Director Guide and your chauffeur in Bhutan will continuously entertain you with anecdotes that attribute events, things, and places to results of actions by one of their legendary Buddhist Sages from past centuries. A lot of unique and/or peculiar beliefs and practices are attributed to one of the greatest miracle workers of them all, The Divine Madman, Lam Drukpa Kuenley.
Arrive at Thimphu and you are assisted with your check in at your unique luxury lodge. Lunch is included at your lodge upon arrival. If it is a little before 3pm at this time, an early check-in may be possible, but is not guaranteed. For most of our South Asian destinations, we recommend a day at leisure upon arrival so as to both recuperate from your international flights, as well as to build a cushion for unexpected flight delays.
Thimphu was just a dzong (fortress) surrounded by a few huts when it became the permanent capital of Bhutan in 1952. In pace with the tranquil passage of time in Bhutan, Thimphu has leisurely transformed into the city it is today. All the architecture in Thimphu is of traditional Bhutanese style because a royal decree demands that the city preserve the original national character of Bhutan's architecture.
Late afternoon - you may want to rest for the remainder of this day so as to acclimatize yourself to the 8000 to 9000-foot elevation. If you feel the need for some activity, the facilities at your lodge and the amazing scenery and walking paths around it are well worth an exploration – the lodge staff will guide you on possibilities.
(Overnight - The Postcard Dewa)
Day 2: Thimphu. (Breakfast, Lunch and Dinner) Start your guided exploration of Bhutan with a visit to the Buddha Dordenma, the massive Buddha statue located on a hilltop overlooking the highway entering Thimphu. This bronze Shakyamuni Buddha statue was completed in 2015 and is gilded in gold. It is 169 feet (51.5 meters) tall, and you will visit the 125,000 Buddha Dordenma (100,000 8 inch and 25,000 12 inch) gilded bronze Buddha statues which are placed inside the main statue. Its ornate base houses a large and beautiful meditation hall.