Goa Description:
Goa is one of the most prominent tourist destinations of India known to western visitors. For over half a century, Goa has been an iconic tourism destination on the hippie trail and is extremely popular with western tourists coming to enjoy pristine white sand beaches and crystal clear waters that remain warm even during winters.

All of this has made Goa, a destination of choice for beach lovers around the world. Goa is the smallest state in India and is located on the country's western coast. Thanks to its phenomenal reputation as a beach haven and a party city, Goa gets an average footfall of over two million tourists every year.
Goa is one of the most liberal states in India. Western wear, including beach wear is perfectly acceptable on Goa's many beaches.

There are a number of beaches and ultra-luxury beach resorts that offer guests a beach holiday of a lifetime in privacy, comfort and convenience. Added to that Goa has an extremely vibrant bar circuit, this has further cemented its reputation as India's signature party capital.

Goa has miles of white sand beaches to choose from. Some of the more prominent public and resort beaches include Chapora, Vagator, Candolim, Benaulim, Colva, Agonda, Anjuna, Palolem, Varca, Cavelossim and Morbor. Guests at these beaches can enjoy a luxurious beach holiday amidst the warm waters of the Indian Ocean and indulge in a variety of water sports comparable to any beach destination around the world. Unlike in many developing countries, Goa's beaches have trained lifeguards as well as swimming advisories to ensure the safety of both domestic and foreign visitors.

While Goa has always been famous as India's major beach destination, it has a host of attractions that would hold the interest of visitors beyond the beaches as well. The reason for this is the rich and diverse history of Goa itself. Goa has been a center of culture since the times of Asoka the Great, it has been ruled by various Hindu dynasties since the 3rd century BC all of whom have added to the cultural landscape. However the heaviest cultural influence on Goa has been that of the Portuguese. The Portuguese ruled Goa from the 16th century till 1961 when an independent and assertive India drove out the last remnants of European colonialism from within its borders.

However to date, the Portuguese legacy in Goa is extremely strong. Part of the liberal climate and wholesale acceptance of western values, lifestyle choices and dress codes even by the locals in Goa is attributed to the longstanding rule of the Portuguese.

Portuguese rule apart from cultural enrichment also has provided Goa with a host of architectural icons, museums and churches that serve as major tourist attractions in modern day Goa. These include the Church of our Lady of the Immaculate Conception built in 1541, the Secretariat Building (formerly the Viceroy's office) and the Se Cathedral which is the largest church in Asia standing at 76 meters long and 55 meters wide and is home to the largest church bell of Asia, the Golden Bell.

Other iconic colonial structures include Chapel of the Cross of Miracles and the Cathedral of St Francis of Assisi which holds the tomb of Saint Francis Xavier - the patron saint of Goan Christianity. Other cultural landmarks include Goa State Museum, Museum of Christian Art, the impressive Fort Aguada as well as a number of Hindu and Jain Temples.

For lovers of nature, Goa has the second highest waterfall in India which is called Dhudsagar Falls as well as some interesting spice plantations and dense forests that have a large number of bird and butterfly species.

For fans of shopping Goa has a world famous flea market and a Friday market which evoke memories of the hippie trail era of the 60s and the 70s. Added to that Goa has a number of shopping locations that are great places to pick up local handcrafts such as brass work and local embroideries.
Best Time to Visit Goa:
The period between Mid-November to Mid-April is the best time to visit Goa and its many attractions. The most pleasant weather is between December and February when the temperature is at its coolest and the waters of the beaches are warm enough to indulge in.

Many visitors coming on a tour of Goa time their arrival with one of the many colorful festivals of the state. Some of the more prominent festivals celebrated with great fervor in Goa that have been of interest to visitors include the Feast of the Three Kings (January), Shigmotsav which is Goa's version of the Holi (February), the Carnival (March) and the Feasts of St. Francis Xavier and Our Lady of the Immaculate Conception (December).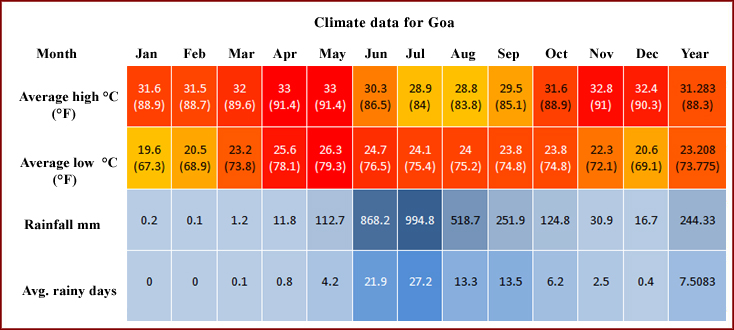 How to get to Goa:
Goa is situated on the western coast of India and is the smallest state in the Indian Union. While Goa does have an international airport called Dabolim Airport, it doesn't offer a lot of international connections and is serviced mostly by holiday charter flights.

Most visitors coming to Goa use Mumbai's Chattrapati Shivaji International Airport. The airport is a major aviation hub in India and is serviced by most international carriers offering convenient connections to a host of international destinations.
Goa Highlights:
Goa has long been the beach holiday epicenter and the party capital of India. It has over 50 years of a solid reputation that continues to draw visitors from all over the world. A good majority of the visitors coming to Goa come to experience its world famous beaches with white sand and warm waters. Fans of water sports, beach holidays and live music performances would always find the charged atmosphere of Goa's beaches and bar circuit to their liking.

Apart from its pristine beaches Goa has loads more to offer to the discerning tourist. It is the site of some of the oldest and grandest colonial architecture in India that would be of great interest to enthusiasts of architecture, history and culture.

Added to that Goa has a score of natural attractions that would interest the eco-tourist. This includes spice plantations, India's second highest waterfall and dense forests.

As Goa has been a major tourist destination in India for over half a century and a landmark on the hippie trail, it is also of interest to many foreign tourists who come to experience the nostalgia of the period and its influences that still permeate the markets, beaches and cultural icons of Goa.
Appropriate Attire:
Goa is one of the most liberal states in India thanks to its longstanding colonial influence. The dress code particularly on the beach is most relaxed and it's perfectly acceptable for women and men to wear western swimwear.

Away from the beach, it is always advisable to wear modest loose cotton clothing that is breathable considering the hot and humid weather throughout the year in Goa. This is particularly true for visitors touring cultural attractions of Goa which include many religious sites and churches that require arms, legs and shoulders of visitors to be covered.