Chennai Description:
Chennai is a city with a rich and vibrant history that has caused it to reinvent itself many times over. Being the capital of Tamil Nadu state, home to the oldest known indigenous civilization of South Asia, the Dravidians, Chennai has had an interesting journey that has seen it grow from a small fishing village to one of India's largest and fastest growing cities.

While Chennai does not get the leisure tourist traffic that some of the other Indian metropolises such as Delhi and Mumbai do, the city has an impressive list of attractions to hold visitors' interest.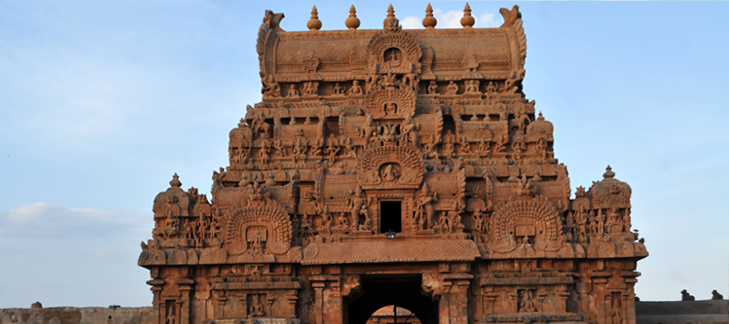 Anyone touring Chennai can see that the city has much to boast about. Attractions in Chennai include India's oldest Anglican Church the Cathedral and Basilica of San Thome that was built in the early 17th century. As the city, then known as Madras, was the first seat of British Imperial power in India, it is replete with colonial masterpieces with a pronounced Anglicized influence. Notable examples include Fort St. George which was the first British settlement in the city and still serves as the urban city center of Chennai as well as San Thome Museum, the Fort Museum and the Chennai's famous flagpole, which is a salvaged 46 meters tall masthead of a ship.

Chennai is long considered to be the entry point of the Christian faith in the Indian Subcontinent and has many sites important to the local Christian community. These include the Tomb of Saint Thomas the Apostle who is credited with bringing Christianity to this part of the world circa 58 AD. Other sites of pilgrimage for local Christians as well as of interest to foreign tourists in Chennai include St. Thomas Mount as well as Little Mount.

Chennai's other claim to fame is its position as the capital of Tamil culture and society which traces its roots to India's Dravidian civilization. The city and its immediate periphery is home to a number of temples some of which are over 5,000 years old. The world famous Shore Temple and the many famous relics in its surroundings are within an hour's driving distance from Chennai in the town of Mahabalipuram.

Chennai offers an interesting starting point for anyone wanting to experience the extremely vibrant and prolific Tamil cultural scene. The city is home to an interesting set of museums dedicated to its proud history as the epicenter of a variety of political structures in India including British, Portuguese and Muslim as well as Modern Indian rule, all the while preserving its ancient Tamil language and cultural heritage.

The city has a vibrant art and culture scene and is a center of excellence in dance, meditation and theatre in India. Chennai is also home to a prolific regional cinema industry popularly dubbed, Kollywood (Tamil Cinema). Tamil movies are extremely popular not just in South India but as far afield as the Middle East and Gulf, Sri Lanka, Malaysia, Singapore and Indonesia as well as in Europe and North America thanks to the widespread Tamil diaspora in these countries.

Dovetailing from Chennai's rich cultural scene, the city is home to a vibrant culinary scene as well. Anyone wanting to get a sampling of traditional Tamil cuisine as well as the many global fluxionary influences on it over the ages would hit mother-load in Chennai. The city's many upscale restaurants, dining establishments as well as street food joints offer an eclectic mix of South Indian cuisines including Tamil, Telgu and Malayali. Furthermore being a world class center for business and commerce, any sort of cuisine and food from India and around the world is easily available across the city.

Another major tourist attraction to Chennai is its pristine beaches. The city and is periphery is home to a number of beaches that are popular with both local and foreign visitors alike.
Best Time to Visit Chennai:
Chennai has a weather pattern that is slightly different from other major cities of India. Located deep in the south of the country, the city is situated on the thermal equator thereby ensuring that it does not have considerable temperature variations throughout the year.

While India is lashed by the Monsoons during July to September, Chennai gets most of its rainfall during mid-October to mid-December as a result of the annual Northeastern Monsoon.

The climate for most of the year remains hot, humid and tropical with temperatures peaking during May to July.

A lot of visitors coming to Chennai time their arrival to catch one of the city's many vibrant festivals. The most popular festivals held in Chennai is the Pongal (held in mid-January) which is the traditional Tamil festival hailing the arrival of spring as well as the Karthikai Deepam Festival. The Karthikai Deepam Festival is the traditional Tamil festival of lights and is celebrated by lighting lamps and setting of fire-crackers across the entire state. The festival is held in November- December.

Other more modern festivals that celebrate achievements of Tamil culture in areas like dance, theatre and cinema include the Chennai Summer Festival and the Chennai Festival of Music and Dance.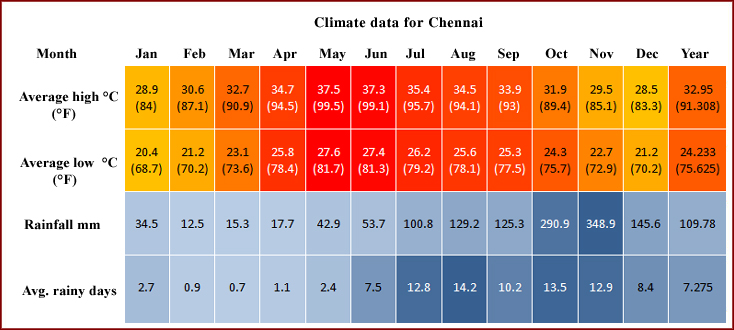 How to get to Chennai:
Chennai is India's fourth largest city and is the capital of Tamil Nadu, the southernmost state in the Indian Union. The city is located on the southeastern coast of India and is a bustling commercial center, hub of industry and the second busiest cargo port of India.

Not surprisingly then the city gets a considerable level of traffic of business and commercial visitors and connected to the world by the Chennai International Airport.

While not offering as many choices as the bigger aviation hubs of Delhi and Mumbai, the Chennai International Airport is serviced by a significant number of regional and international carriers.

The airport offers convenient connections to a host of international destinations across, Asia, the Middle East, Far East and Europe. Many visitors use Chennai as a springboard to commence their exploration of South India.
Chennai Highlights:
Being South India's largest city and busiest center for commerce, Chennai gets a great deal of business visitors who find time to discover the many treasures of this often under-rated city.

The city is a proud center of Dravidian Civilization which is thought to be the oldest indigenous ethnic grouping of South Asia.Chennai and its periphery are home to a host of ancient cultural icons as well as more modern colonial architectural masterpieces with a pronounced Anglican influence.

Furthermore Tamil society is one of the most progressive and forward-looking across India. This has ensured that Chennai has a very vibrant urban landscape of cultural events, art, dance and music, museums and history as well as culinary traditions.

All of the above ensures that Chennai captivates a variety of visitors interested in history, culture, food, shopping, natural wonders, contemporary religions and even beach holidays.
Appropriate Attire :
Chennai has a proud history of progressivism. The city has always been a center of art, free-thinkers and literature which coupled with centuries of western and foreign influence has created a vibrant cultural scene.

With near universal literacy, Chennai is very upwardly mobile so modest casual wear and western clothes (covering arms and legs) are a common sight at most top end establishments, shopping districts as well as areas of visitor interest.

However as in other major cities of India, there is great value put on modesty. Covering arms and legs and opting for clothing not too revealing is always a smarter choice and ensures that the visitor attracts no unwanted attention.

When visiting temples, mosques, religious sites as well as some of the cultural artifacts, national monuments and street markets you may be required to dress conservatively ensuring that arms, legs and even hair are covered.