Mehrangarh Fort, Jodhpur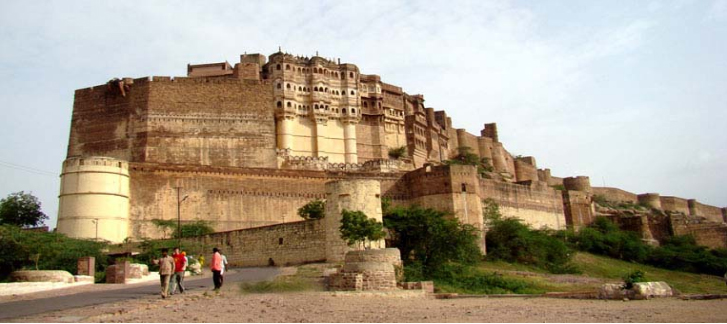 There are many great fortresses all over Rajasthan, but very few can compare with Mehrangarh Fort. Perched on a ricky cliff 400 feet about the plain, it has a commanding view of the surrounding landscape. In fact, you can see from here all the way to the fort of Kumbhalgarh, 80 miles away. Mehrangarh Fort seems to grow out of the living rock itself, and, indeed, in parts the rock face was hewn to form its ramparts. The approach to Mehrangarh Fort, up a zigzag pathway and through seven fortified gateways, is an arduous one. You enter through the towering Jai Pol (Gate of Victory). At Dedh Kangra Pol, you can see the marks of cannon balls once fired by the Jaipur armies in their attempt to capture Jodhpur in 1807. After Dedh Kangra Pol, there is a sharp U-turn to thwart would-be attackers, and finally you come to Loha Pol, the 15th-century Iron Gate, beside which you can see the handprints of 15 royal satis, Jodhpur widows who immolated themselves on the funeral pyres of their dead husbands. On the Mehrangarh Fort ramparts, which are 130 feet high in some places, you can see a battery of fine medieval cannons.

Mehrangarh Fort itself is divided broadly into three areas: the outer court, with its old stables and kitchens; the durbar hall, reception rooms, and maharaja's palaces; and, finally, the zenana, or queens' palaces. This palace complex, constructed around a series of interconnecting courtyards and adorned with breathtakingly carved sandstone filigree work, was first built in 1459 and added to, over the centuries, by successive generations of maharajas. It is one of the most impressive palace complexes in Rajasthan. On your right, as you enter, is the white marble coronation throne, where every ruler of Jodhpur has been crowned since the 15th century.

Mehrangarh Fort's museum is one of the finest museums in Rajasthan and certainly the best laid out. In the palanquin section of the fort museum you can see an interesting collection of old royal palanquins, including the elaborate domed gilt mahadola palanquin, which was won in battle from the Governor of Gujarat in 1730. Next comes the howdah section, with perhaps one of the finest collections of ornate elephant howdahs in the world. Continue on to Maan Vilas, housing one of the finest collections of weapons in India: everything from medieval mortars shaped like crocodiles to shields decorated with semi-precious stones. The swords here are particularly noteworthy. They range from exquisite Mughal swords (including the sword of Emperor Akbar himself) to Rao Jodha's enormous khanda sabre with a straight blade, weighing over seven pounds.

As you pass into Umaid Vilas you will see an excellent collection of miniature paintings from all the major schools of Rajasthan. From here you enter Takhat Mahal, a huge royal bedchamber with exquisitely lacquered walls depicting scenes of dancing girls and legendary lovers. Going up the stairs you come to Phool Mahal (Flower Palace), which is perhaps more impressive than Moti Mahal. Built in the 18th century as a Hall of Private Audience, it has magnificently painted walls depicting the various musical ragas (classical Indian patterns of melody and rhythm) and their changing moods. In Sardar Vilas there are some classic examples of Jodhpur's celebrated traditional woodwork, including an array of doors in a variety of styles, superbly carved, lacquered, ornamented with gilt and inlaid with ivory.

Through Khab ka Mahal, which used to house the office of the Prime Minister, and an old conference room for Rathor's nobles, you come to Jhanki Mahal (Palace of the Glimpses). This palace got its name from the exquisitely carved sandstone lattice windows, thought which the ladies used to view the world outside, without themselves being seen by prying eyes. The stone latticework here is so fine, it actually resembles lace. There are nearly 250 latticework patterns used all over the palace complex, each of which has its own name. Here there is also a fascinating display of royal infants' cradles, which range from the exotic to the idiosyncratic. Do not miss the splendidly mirrored cradle with the peacock motifs.

Moti Mahal (Pearl Palace) is a throne room built in the late 16th century. Judging from its magnificence and size, it was originally conceived as a Hall of Public Audience. Its ceiling is gorgeously embellished with mirror-work and gilt. Its wall are lustrously polished, and decorated with a triple band of ornate niches in which lamps once flickered, reflecting off the polished walls. At the far end is an octagonal silver throne, a rare and priceless heirloom dating back to the 17th century. A museum houses a very interesting collection of over a hundred different types of turbans from the different parts of Rajasthan, including a strange hunting turban with a visor and a backflap, as well as traditional musical instruments and potteries.
Umaid Bhawan Palace, Jodhpur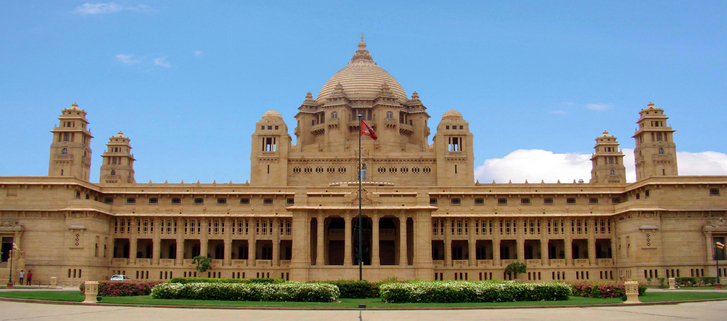 The enormous Umaid Bhawan Palace has the distinction of having been one of the largest private residences in the world. It has 347 rooms and used over 2.5 million cubic feet of sandstone and marble. It is a splendid example of Indo-colonial and art deco architecture of the 1930s. The interior of the palace was decorated in the Beaux Arts and Art Deco styles. And it incorporated everything from two theaters and an indoor swimming pool to its own central air-cooling plant. A portion of the palace has been converted into a hotel, the other remains on view to visitors in the form of an excellent museum which houses model airplanes, weapons, antique clocks, priceless crockery and hunting trophies. Both sections retain the ambience of royal splendor.
Mandore Garden, Jodhpur
Mandore, located about 5 miles north of Jodhpur, was the former capital of the maharajas of Mewar, but was later abandoned for the security of Mehrangarh Fort. Here you will find the dewals, or cenotaphs, of Jodhpur's former rulers. Unlike the usual chhatri-shaped cenotaphs typical of Rajasthan, they were built along the lines of a Hindu temple, four stories high, with fine columns and an elegant spire, all in red sandstone. The most impressive is the dewal of Maharaja Ajit Singh. These cenotaphs are set in beautiful landscaped gardens.

Nearby is the Hall of Heroes (also called The Shrine of the Three Hundred Million Gods), dedicated to various deities and fabled Rajput folk heroes, whose statues (each one astride his steed) are carved out of rock and painted in bright colors. Next door is a small temple dedicated to Behru, with two huge statues framing and effigy of Ganesh. And as you climb up the hill, you come to the ruined city of Mandore, with the old summer palace of Abhai Singh.
Jaswant Thada, Jodhpur
On the way down from the fort, on left is Jaswant Thada, the graceful marble cenotaph of Maharaja Jaswant Singh II. His son, Maharaja Sardar Singh, built this monument known as "The Taj Mahal of Marwar" in his memory. The main memorial has been built like a temple with intricately carved marble stone. Hidden in the rocky hills, Jaswant Thada has secluded and mystic aura.