Sights in Mumbai
Gateway of India, Mumbai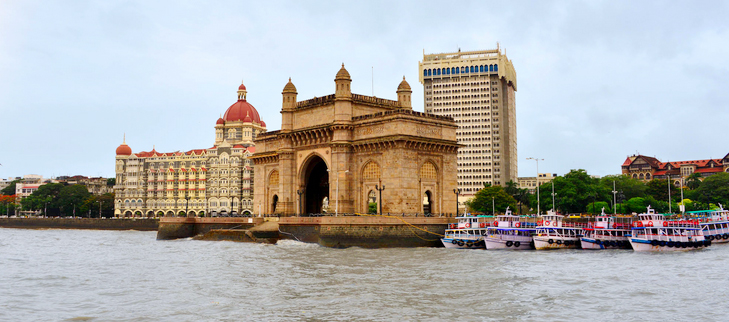 Mumbai's principal landmark, the Gateway of India is a huge archway on the water's edge at Apollo Bunder. It is the starting point for most tourists who want to explore the city. It was built as a triumphal arch to commemorate the visit of King George V and Queen Mary, complete with four turrets and intricate latticework carved into the yellow basalt stone. Ironically, when the Raj ended in 1947, this colonial symbol also became a sort of epitaph: the last of the British ships that set sail for England left from the Gateway.

Mumbai's most striking monument, the Gateway of India's design is a combination of both Hindu and Muslim architectural styles; the arch is in Muslim style while the decorations are in Hindu style. This awesome structure is a blend of the Arc de Triomphe in Paris and a Moorish palace. Behind the arch, there are steps leading down to the water. Here, one can get onto one of the bobbing little motor launches, for a short cruise through Mumbai's splendid natural harbor. Anyone coming to Mumbai from this harbor is greeted by the huge monument, which stands as a testimony to the imperial bygone era of the city. As you pass through the gate from the city side, the first scene that looms into view is that of the waterfront of South Mumbai. A popular harbor, it is used by a large number of people for traveling to the other parts of Bombay, especially the Elephanta Island.
Chhatrapati Shivaji Terminus, Mumbai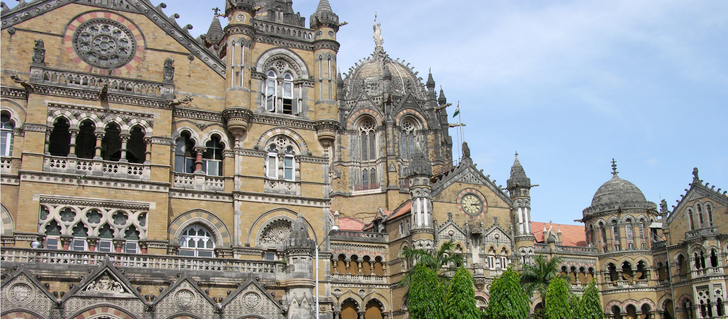 The Chhatrapati Shivaji Terminus, formerly known as Victoria Terminus Station, in Mumbai, is an outstanding example of Victorian Gothic Revival architecture in India, blended with themes deriving from Indian traditional architecture. The building, designed by the British architect F. W. Stevens, became the symbol of Bombay as the 'Gothic City' and the major international mercantile port of India. The terminal was built over 10 years, starting in 1878, according to a High Victorian Gothic design based on late medieval Italian models. Its remarkable stone dome, turrets, pointed arches and eccentric ground plan are close to traditional Indian palace architecture. It is an outstanding example of the meeting of two cultures, as British architects worked with Indian craftsmen to include Indian architectural tradition and idioms thus forging a new style unique to Bombay.
Elephanta Island, Mumbai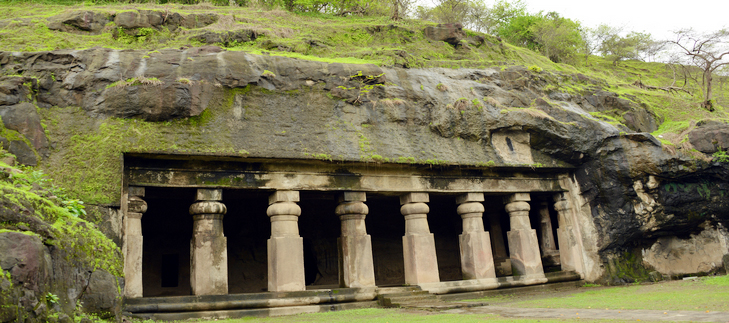 Lying in the Arabian Sea off the coast of Mumbai in Western India, Elephanta Island is an important Hindu temple site dating back to the 5th century.

The 4-square-mile island is capped by two hills dominated by rock-cut Hindu temples. The largest and most important Elephanta Cave temple is dedicated to the Hindu deity Shiva. Inside, a 22-feet high bust of Shiva dominates the temple's entryway. The bust depicts Shiva in three forms of his many aspects: creator, preserver, and destroyer. Go to the Elephanta Island Page.