Jaipur Description:
Jaipur is the largest city and capital of the Western Indian state of Rajasthan. Jaipur along with Delhi and Agra forms India's Golden Triangle which is the most visited tourist circuit in the country.

Jaipur was formed in the year 1727 AD by Maharaja Sawai Jai Singh II as his capital and bears his name. The Maharaja is famous as one of the most forward looking and progressive rulers in Rajasthan. He was an urban planner, architect, astronomer as well as military genius of great merit. Jaipur is the only planned city in pre-modern India. The city is built on a grid with streets and lanes of standardized width, regularity and is divided into six sectors. Jaipur is encircled by a large defensive wall with huge gateways called "Pols". Some of the more famous doorways frequented by tourists include the Chand-Pol, Ajmer Gate and the Sanganeri Gate.

Jaipur is called India's "Pink City." Pink represents the traditional color of hospitality in Rajasthan. The city's façade was painted pink in the year 1876 AD to welcome the British Prince of Wales and since then all residents are required by law to maintain the color.

Jaipur is the unquestioned gateway to Rajasthan, one of the most culturally flamboyant states in India. The city provides a unique window into traditional Rajasthani culture and hospitality. Jaipur is famous for its many traditional markets such as Johari Bazaar, Bapu Bazaar, Chandpol Bazaar and Tripolia Bazaar. Many of these are specialist markets and are a good place to source authentic Rajasthani handicrafts, costumes and merchandise.

Most enthusiasts of history and culture kick start their excursion of Jaipur by a visit to the City Palace which is still home to the Rajasthani Royal Family. The palace is a fine specimen of the fusion of Rajasthani and Mughlai architecture. The City Palace has a host of attractions including the Mubarak Mahal (Celebrated Palace) which was used to receive dignitaries and is now home to a fine museum displaying a large royal costume collection. Other prominent sections in the City Palace include the Diwan-e-Khaas and the Diwan-e-Aam assembly halls. The Palace is also home to some interesting artifacts such as the weaponry in its armory, a prized art gallery of manuscripts as well as the world's largest silver vessels that were used to carry holy water of the Ganges on the King's foreign trips.

Undoubtedly, Jaipur's most unique attraction is the celestial observatory built by Maharaj Jai Singh II titled Jantar Mantar. The Jantar Mantar at first glance looks like a collection of bizarre stone sculptures. However each construct is used to measure precise celestial movements as well as complex calculations like star positions, altitudes, azimuths and even predicting eclipses. The Jantar Mantar is famous for the great precision and accuracy of its calculations and was nominated as a UNESCO World Heritage Site in 2000 AD.

Another iconic landmark in Jaipur is the Hawa Mahal (Palace of Winds). Designed as the Crown of the Hindu Deity, Lord Krishna, the Hawa Mahal was constructed in 1799 AD with a massive façade of windows to provide ladies of the royal court the opportunity to see life in the city's markets and military processions in relative privacy.

For a window into traditional Rajasthani village life and the state's mystic heritage one can visit the Central Museum which has some amazing exhibits and is housed in the Albert Hall, a fine specimen of Rajasthani and British colonial architecture.

Outside the city is a set of Royal Cenotaphs. These are some beautiful stone monuments with intricate carvings to honor kings of Jaipur including Maharajas Jai Singh, Madho Singh and Pratap Singh. Also nearby are the Maharani cenotaphs honoring the queens of Rajasthan.

In close proximity of the Royal Cenotaph Complex are a host of attractions such as the Gatta and Surya Temple and its large population of Monkeys. Other famous sites nearby also include a Royal construct called Nahargarh and the Iswari Minar Swarga Sal (Heaven Piercing Minaret). Both monuments have interesting back stories and provide some great views of Jaipur from a higher elevation.

One of the star attractions of any tour of Jaipur is a visit to the ancient capital of Amber (pronounced Amer) that is 11 kilometers away from the city. Amber is home to the Amber Fort, which has recently been awarded the status of a UNESCO World Heritage Site.

Built in 1592 AD, the massive Amber Fort is said to be the pinnacle of Rajasthani military architectural genius. The fort is built along the precipice of a steep hill thereby giving it formidable natural defenses. Constructed out of yellow and pink sandstone, the Amber Fort has four main sections each with an open courtyard. Visitors to the Amber fort can take an elephant ride up the ramparts and arrive through the massive gates in traditional fashion of the Maharajas.

Inside the Amber Fort there are many attractions to enthrall the visitor including the four main courtyards, Jaleb Chowk, Diwan-e-Aam, Jai Mandir (Victory Hall) as well as Sukh Niwas (Hall of Pleasure). Visitors can also see the temples within the fort as well as visit the Maharajas' quarters and the Zenana which were the female quarters. Situated at an elevation, the Amber Fort provides great scenic views of Maota Lake below its walls.
Best Time to Visit Jaipur:
As with the rest of India, the period between October and March is the best time to visit Jaipur. The weather is comparatively pleasant and the scorching Rajasthani summers as well as the inundating monsoon rains do not disrupt any tour of Jaipur.

Since Rajasthan is home to some of India's most famous and colorful festivals, many visitors plan their trips to Jaipur in time for one of these events. Prominent festivals include the Elephant Festival in March / April, Gangaur which is a statewide festival honoring the Hindu Gods Shiva and Parvati as well as Teej Festival celebrated in August to honor the onset of the Monsoon.

In recent years, the Pushkar Camel Festival in Rajasthan has increasingly become the subject of global traveler interest. Held in October / November, many people coming to Pushkar use Jaipur as a springboard to explore Rajasthan and its many attractions.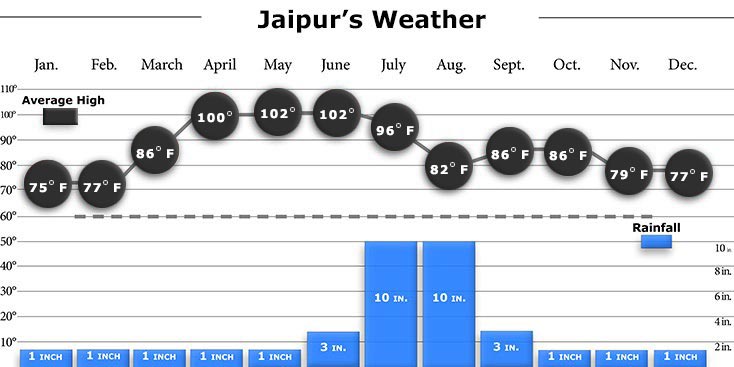 How to get to Jaipur:
Jaipur is situated in the North-west of India. Jaipur along with Delhi and Agra forms India's Golden Triangle. The city due to its rich history, amazing culture and iconic attractions gets a great number of foreign tourists coming to India.

While Jaipur has its own international airport, this provides extremely limited international connections. Most foreign travelers coming to Jaipur use Delhi's Indira Gandhi International Airport, the largest aviation hub in India and then take a domestic connecting flight to Jaipur.

Many visitors tour Jaipur in conjunction with other Indian cities and choose to drive to Jaipur in a luxury SUV while visiting many other famous attractions en route such as Agra (home of the Taj Mahal) and Ranthambore.
Jaipur Highlights:
Rajasthan is famous for an extremely vibrant cultural scene making a visit to Jaipur a thrill ride of experiences for foreign visitors. The city is the heartland of Rajasthani culture that is known for its chivalry, modesty, religiosity, martial prowess and world famous bravado.

Jaipur and its many attractions will interest enthusiasts of history, culture, military tactics, religion and mysticism as well as free spirited adventurers. The city, its attractions and festivals are popular with all varieties of tourists as they are the perfect showcases of traditional Rajasthani hospitality that is welcoming and inclusive.

For foodies, Jaipur has much to offer being the center of excellence for traditional Rajasthani cuisine and its plethora of gastronomic delights.

For shopaholics, the bazaars of Jaipur hold the promise of a great shopping experience. Jaipur is an excellent place to source traditional Rajasthani handcrafts, gems and jewelry, bangles, local costumes and jootis (footwear). For the artistically inclined, Jaipur is a center of traditional jewelry making as well meenakari which is glazed enameled artwork made by local artisans.

For visitors wanting to indulge in matchless luxury, Jaipur is home to a number of palace hotels and former royal residences that have been converted to give tourists a taste of the regal lifestyle. These include some world famous heritage properties such as the Raj Palace, the Jai Mahal, the Oberoi Raj Villas and the Taj Rambagh Hotel.
Appropriate Attire:
Rajasthan is mostly desert with hot weather for the greater part of the year, visitors are strongly advised to wear loose cotton clothing that is breathable. Also a point to consider is that Rajasthan is an extremely conservative society that is devoutly religious and traditionally patriarchal.

It is therefore advisable that both men and women visiting Rajasthan should wear modest clothing which covers arms, legs and shoulders as well as take adequate protection against bright sunlight. Some of the attractions in Jaipur still function as religious sites and may require female visitors to cover their hair.

Furthermore some sites in Jaipur may require visitors to remove their shoes upon entry therefore wearing slip-on shoes as well as socks in summers increases comfort for visitors.

World Heritage Sights in Jaipur

Other Sights in Jaipur