Jaisalmer Description:
Jaisalmer is located in Western India in the state of Rajasthan near the Pakistani border. Constructed from bright, yellow sandstone Jaisalmer is often referred to as The Golden City of India.

A former military outpost dating back to the 12th century, Jaisalmer today is a living fort town where many families still reside and work in Havelis (sandstone homes) crafted by their ancestors centuries ago.

One of the great tourists destinations of India, the Golden City is particularly splendid to view at dawn and dusk when the sun's rays refract on the sandstone giving the city the rich color it takes its nickname from.

A treasure trove of activities awaits guests on luxury tours of India in this ancient and resplendent town. From the intricately carved Jain Temples to the still waters and quiet tombs and temples of Gadisar Lake, there is a wealth of cultural and historical treats for travelers to devour.

Camel treks into the surrounding desert offer guests on India tours a chance to experience the stark beauty of Rajasthan's desert.
Best Time to Visit Jaisalmer:
With monsoon rains light in July and August, Jaisalmer is a popular year-round destination that attracts travelers from all over the world, but the heaviest tourism traffic comes through the city November through May to beat the summer heat.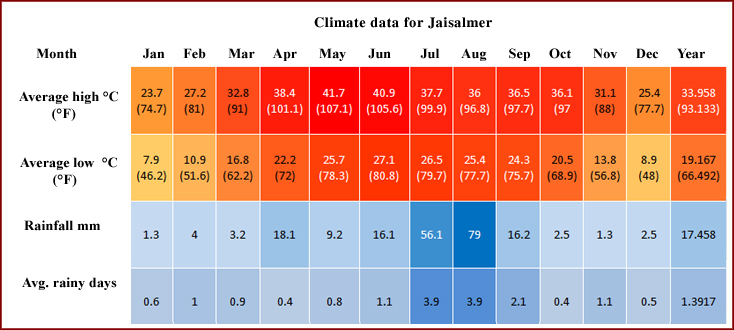 How to get to Jaisalmer:
Located in Western Rajasthan near the Pakistan border, Jaisalmer is remote, but well connected to the rest of India by modern highways easily traversed in a private vehicle.

Visitors on luxury tours in India also have the option of reaching the city via India's famously opulent Palace on Wheels luxury train.
Jaisalmer Highlights:
The shining walls and buildings of Jaisalmer draw visitors by the thousands to Western India. The intricately carved Havelis and Jain temples feed the hungry minds of architecture and history lovers, while the quiet and breathtaking beauty of the surrounding desert offer sustenance for those that crave nature.
Appropriate Attire:
Jaisalmer's population is under 100,000, and many of the residents are only around during the height of tourist season. Guests visiting this ancient town should dress conservatively by covering their shoulders, arms, and legs to keep from drawing unwanted attention.