Sights in Madurai
Meenakshi Temple, Madurai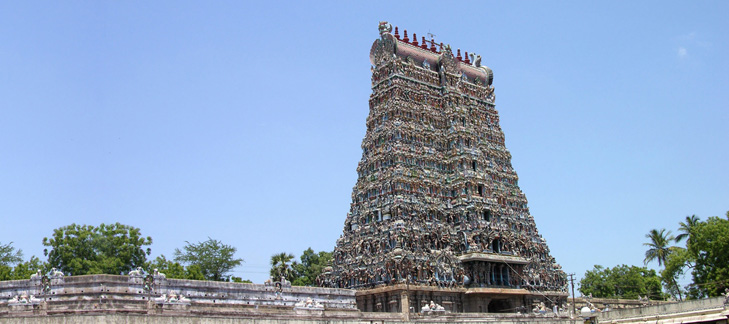 Synonymous with Madurai is the Meenakshi Temple. The Meenakshi Temple complex is literally a city on its own. It is one of the largest of its kind in India and undoubtedly one of the oldest too. The temple grew bigger with the contributions of each dynasty and victorious monarchs, into an enormous complex spanning 45 acres. The temple was first built 2000 years ago and was substantially expanded during the reign of Thirumalai Nayak between the years 1623-55 AD. Go to the Meenakshi Temple Page.
Vandiyur Mariamman Teppakulam, Madurai
Vandiyur Mariamman Teppakulam is one of Madurai's most popular tourist hubs. The Teppakulam is the largest man-made water tank in South India. Built by King Thirumalai Nayak, Mariamman Teppakulam is fed by water through ingenious underground channels from the Vaigai River. Go to the Vandiyur Mariamman Teppakulam Page.
Alagarkoil, Madurai
About 21kms north east of Madurai, stands a celebrated Vishnu temple dedicated to Lord Alagar. The temple is situated on a hill amidst panoramic surroundings. The shrine is known as Alagarkoil and the hill is known Solaimalai. The t emple also contain some beautiful carvings and makes the visit rewarding. Solai malai Mandapam, one of the six abodes of Lord Subramanya is located atop the hill.
Gandhi Museum, Madurai
Housed in the old Palace of Rani Mangammal, the Gandhi Memorial Museum is meant to be a living institution and not merely a building showcasing exhibits, however precious. It seeks to help an ever increasing number of people particularly the youth of India to understand and to value the life, work and teachings of Gandhi. Go to the Gandhi Museum Page.