Ghats of Varanasi, Varanasi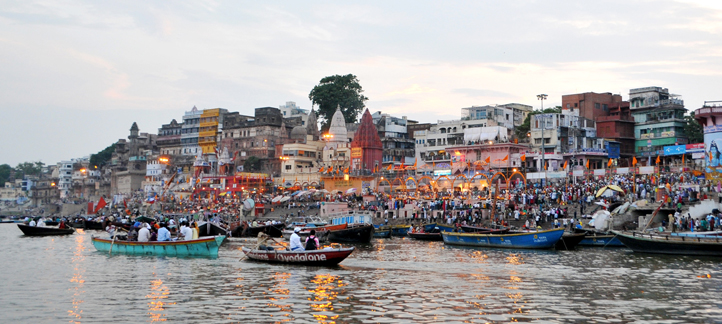 Varanasi is a holy city in Hinduism, being one of the most sacred pilgrimage places for Hindus of all denominations and is one of seven most holy places for Hindus in India. Varanasi is the ideal opportunity to experience some of Hinduisms ancient and iconic rituals. The culture of Varanasi is closely associated with the River Ganges and the river's religious importance. Hindus believe that bathing in the Ganges remits sins and that dying in Varanasi ensures release of a person's soul from the cycle of its transmigrations. As the place where Siddhartha Gautama gave his first sermon to his disciples, Varanasi is also the city where Buddhism was founded. The rich cultural heritage and tradition of Varanasi makes it the cultural capital of India. Go to the Ghats of Varanasi Page.
Kashi Vishwanath Temple, Varanasi
In a holy city filled to bursting with temples and religious monuments, Kashi Vishwanath Temple stands apart as a beacon to the devout. Dedicated to the Hindu deity Lord Shiva, Vishwanath on the banks of the Ganges River in the city of Varanasi is one of the 12 Jyotirlingas in India that function as the most sacred pilgrimages points on the Indian subcontinent for Hindus.

Practitioners of the Hindu religion are expected to make the pilgrimage to Vishwanath and bathe in the holy waters of the Ganges River at least once in their lifetimes. Though numerous religious structures (both Muslim and Hindu) have occupied the site throughout much of Varanasi's 3,000 year history, the current temple structure was completed in 1780. Go to the Kashi Vishwanath Temple Page.