Udaipur Description:
Nestled amidst tranquil lakes and the scenic Aravalli Mountains in Southeastern Rajasthan state is the city of Udaipur. Udaipur is one of the most prominent tourism destinations in Rajasthan and is famous around the world by a number of monikers including "City of Lakes", "Venice of the East" and "Lake City". The city was also dubbed as the "most romantic spot in India" by British Colonial administrators who favored Udaipur as a scenic holiday retreat. That reputation has permeated to this day and Udaipur is a choice destination of honeymooners as well as holidaying families from India and around the world.

Added to that, Udaipur, thanks to its centuries of trysts with Mewar royalty is home to a greater number of heritage hotels, palaces, traditional Rajasthani Havelis than any other city. This makes a tour of Udaipur a must-see on the list of enthusiasts of architecture, history and culture who come in droves to marvel at the many attractions of Udaipur.

The modern city of Udaipur was founded in the year 1559 AD by Maharana Udai Singh II. The city was conceived as the capital of the Kingdom of Mewar after the loss of the ancient capital and fort of Chittorgarh to an expanding Mughal Empire under Emperor Akbar. Maharana Udai Singh II chose the present location of the city after an encounter with a sage and for the natural defenses that the site provided. These natural defenses over the centuries have also given Udaipur much of its scenic beauty. Being the bustling capital of a prosperous kingdom such as Mewar, Udaipur grew incrementally and the kings of the ruling Sisodia Dynasty spent lavishly to make their capital a showcase of the kingdom's prosperity.

The modern city of Udaipur is built around a number of great lakes namely Fateh Sagar, Rang Sagar, Pichola, Swaroop Sagar, Doodh Talai and Udai Sagar. These lakes provide much of the lifeblood of any tour of Udaipur and boat trips on these lakes is a big part of the tourism industry of the city. The most famous site of boat trips is the Lake Pichola. The lake is home to the world famous Lake Palace of Udaipur. The Palace, situated on the riverine island of Jagniwas, is now a major heritage hotel and was the setting of the famous James Bond movie "Octopussy". While the hotel and its grounds are only open to resident guests, a boat ride near the Palace is an amazing experience in itself. Also nearby is the Jagmandir Island temple which is a fascinating specimen of Rajasthani temple building.

On the other side of the Lake Pichola is the City Palace of Udaipur. The City Palace of Udaipur is the largest royal palace in all of Rajasthan. The palace is a collection of fascinating buildings that have been built over many generations. The City Palace is today part heritage hotel plus a series of many museums, gardens, galleries and armories all of which are open to tourist visitors as well as resident guests.

The City Palace can be entered through any of its massive doorways known as "Pols". The most famous of these are the Haathi Pol (Elephant Gate), Badi Pol (Large Gate), Sheetla Mata Pol and Tripolia Gate. The City Palace has many attractions that would interest visitors to Udaipur. These include Tiger and Leopard traps at the Manek Chowk, the interesting City Museum at Ganesh Chowk, the gardens of Rai Angan and Badi Mahal as well as the peacock mosaics of Mor Chowk. Other famous areas of the Palace include the Zenana Mahal which was the traditional ladies quarters as well as the galleries of palanquins and howdahs at Lakshmi Chowk.

One of the most iconic exhibits in Udaipur is the Crystal Palace. This is a collection of Maharaja Sajjan Singh and has an amazing array of crystal items ranging from the miniscule to the magnificent. Inclusions in the collection range from minor fixtures to large items such as crystal beds, chairs and tables that never cease to amaze visitors to Udaipur. Other attractions nearby include the iconic Jagdish Temple which is a traditional Rajasthani temple shrine dedicated to Lord Vishnu as well as an interesting garden titled Saheliyon Ki Bari (Garden of the Maids of Honor) which has interesting carved statuettes as well as pools and fountains. The garden was reportedly made for 48 female attendants that came in the dowry of a Princess.

Another prominent attraction on a tour of Udaipur is the Government Museum which is a good source of information on the history of Udaipur as well as on the Mughal-Mewar rivalry that has been so instrumental in the development of the city. The museum has a fine collection of miniature paintings, weapons as well as artifacts that would interest visitors on a tour of Udaipur.

Udaipur with its vast number of heritage properties offers visitors a rare glimpse into the glorious past of this region. The Bayone Ki Haveli which is a 100 plus room heritage property that was built by a Mewar Prime Minister offers an interesting set of exhibits (including the world's largest turban) and galleries of this bygone era. For a bird's eye view of Udaipur as well as to indulge in a regal adventure trek, visitors to Udaipur can visit the Monsoon Palace which is also known as Sajjan Garh. The palace is built on a hill perched high above Udaipur and provides some amazing elevated vantages for tourists coming to the city.

Like the Crystal Palace, another iconic attraction unique to Udaipur in Rajasthan is the Automobile and Vintage Car Museum. The museum is based out of the former Royal Garage of Udaipur and is home to some great vintage cars of both European and American makes that belonged to the erstwhile princely rulers of Mewar.
Best Time to Visit Udaipur:
The post summer and post monsoon period between September and April is traditionally the high season to visit Udaipur. The weather is comparatively pleasant (even at the height of winter, daytime temperature in Udaipur average around 28 degree Celsius) thereby making it easy for foreign tourists to enjoy the many attractions of Udaipur.

Since Rajasthan is home to some of India's most famous and colorful festivals, many visitors plan their trips to Udaipur in time for one of these events. The most prominent festival in the city is the Mewar Festival, which is Udaipur's version of the traditional Rajasthani Gangaur spring festival. There are abundant cultural performances in Udaipur during the period of the Mewar festival which is celebrated every April.

More recently, many Rajasthani festivals such as the Pushkar Camel Fair (held every October / November) and the Teej Festival (held every August) have become very popular with international tourists and many people time their tours of Udaipur to coincide with these festivals happening in other parts of Rajasthan as well.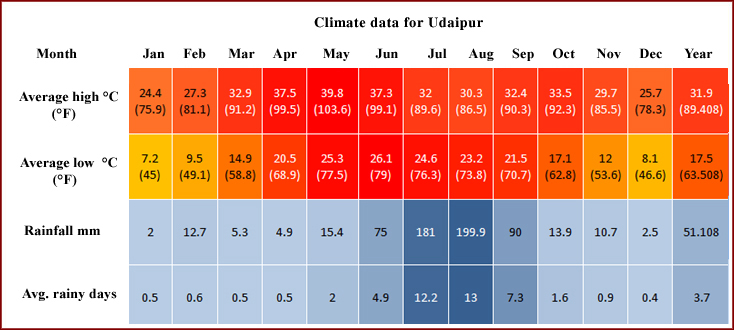 How to get to Udaipur:
Udaipur is situated in the North-west of India in the state of Rajasthan. The city is a high tourist traffic destination due to its amazing monuments, rich cultural scene and extremely interesting history.

Udaipur is connected to the rest of India by a domestic airport called the Dabok Airport / Maharana Pratap Singh Airport. The airport offers connections to Indian cities of Delhi, Mumbai, Jaipur and Jodhpur.

Most visitors however come to Udaipur as part of a more comprehensive tour of Rajasthan and usually arrive in the city via the NH-8 highway that connects the city to Jaipur, Delhi and Mumbai. Most luxury tours of Udaipur involve guests coming into see Jaipur and then driving down to Udaipur in a luxury SUV.

The drive distance between Jaipur and Udaipur is approximately 6 hours and the ride between the two cities has some interesting stop-overs along the way including Ranakpur and its world famous Jain Temple as well as Chittorgarh with its iconic fort. Udaipur is also on the itinerary of the uber-luxury trains "Royal Rajasthan on Wheels" as well as "Palace on Wheels" that regularly traverse through Rajasthan.
Udaipur Highlights:
Udaipur being one of the larger urban centers of Rajasthan has a plethora of attractions to hold the interests of all types of visitors. Udaipur's attractions are very popular with enthusiasts of culture, history, architecture, photography as well as mythology, chivalry and romance.

As many of Rajasthan's cities such as Jaipur and Jodhpur become more established on India's tourism circuit, an increasing number of people are making the journey to Udaipur to further delve into the proud history and traditions of this region. Udaipur is particularly famous for performances of traditional Rajasthani dances and folk-art. There are a number of venues in Udaipur where local artist performances can be viewed by visitors conveniently.

Udaipur has much to offer for fans of food and drink. The city has a multitude of restaurants specializing in the finest of Rajasthani and North Indian cuisine that is becoming ever popular with global tourists.

For fans of shopping, Udaipur's markets and bazaars are a great source for traditional Mewar handicrafts as well as souvenirs.

Udaipur has a number of popular markets which are excellent sources of items like ornate knives, miniature paintings, camel bone handicrafts, wood carvings, traditional Rajasthani jootis (sandals), spices, textiles as well as handmade paper notebooks and leather goods.

Udaipur is also home to some of India's finest luxury hotels and heritage properties. The city and its many lakes have a number of phenomenal palaces and havelis that have been converted into iconic heritage properties. For regal indulgence, visitors to Udaipur can live it up in world famous palace hotels such as the Taj Lake Palace, the Lalit Lakshmi Villas, the Oberoi Udaivillas and the Udaipur City Palace.
Appropriate Attire:
Udaipur is in Rajasthan which is mostly desert with hot weather for the greater part of the year. Visitors touring Udaipur should ideally wear loose cotton clothing that is breathable. Clothing for both males and females should ideally cover arms, legs and shoulders as that would ensure that visitors avoid any unwanted attention and is in line with local traditional sensibilities.

Furthermore, as there is considerable outdoor walking and traveling during all tours of Udaipur, visitors should take adequate protection against bright sunlight. Some of the attractions in Udaipur still function as religious sites and may require female visitors to cover their hair and may require visitors to remove their shoes upon entry. Therefore wearing slip-on shoes as well as socks in summers considerably increases comfort for visitors.