Cochin Description:
Cochin (Kochi) is the commercial capital and gateway to Kerala, one of the most interesting and culturally rich states in Southwest India. Kerala is one of the fastest growing tourist destinations in the world and is known for its natural beauty, rich history, intellectual vibrancy and cultural diversity.

Often dubbed the "Queen of the Arabian Sea", Cochin is an interesting confluence of ancient cultural and historic influences as diverse as Dravidian, Islamic, Jewish, Arab, Portuguese, English, Dutch and Chinese. The city and its many attractions came about as the area became a prominent trade hub between the orient and the western world.

Cochin today can boast of signature attractions that range from the oldest European built church in South Asia to a 400 year old synagogue coupled with equally ancient temples and mosques that all pepper its dynamic cityscape. The modern city of Cochin can be divided into three distinct parts: the colonial quarter at Fort Cochin, the cultural heart of the city at Mattancherry and the modern business hub at Ernakulam.

Any tour of Cochin is best kicked off with a visit to Mattancherry Palace. The palace was built in 1555 and presented as a gift by the Portuguese to the local Maharaja in a bid to gain trade concessions. The entry of the Portuguese marked Cochin's longstanding colonial tryst that saw it become a bustling trade hub under a spate of European powers including the Portuguese, Dutch and finally the English. The Mattancherry Palace has a number of beautiful murals depicting many tales from Hindu scriptures. There is an interesting gallery of the portraits of the reigning Maharajas of the region along with a superb collection of palanquins, jewelry and royal outfits.

Another iconic attraction on any tour of Cochin is the Pardesi Synagogue. The Jewish community in Cochin traces its roots as far back as the 6th century, the present synagogue was originally built in 1556 and then re-built in 1664. The synagogue is one of the oldest in South Asia and has an interesting set of artifacts including a gold pulpit as well as a floor-plan composed of intricate handmade tiles from China. The area around the Pardesi Synagogue is called Jew Town and is a sprawling mix of spice markets, colonial buildings as well as interesting shops. The Jew Town is one of the oldest Jewish settlements of the Indian Subcontinent and its buildings make for a fascinating journey of discovery.

At the northern end of Fort Cochin are the gigantic fishing nets that have become the most prolific visual of Cochin and Kerala around the world. Brought to Cochin over 400 years ago by the Chinese of Kublai Khan's court, these gigantic cantilever based nets are each operated by a crew of four. Visitors can take guided tours of how these nets work under a complicated mechanism of counterweights that balance the net during changing tidal currents.

Cochin is home to some great museums such as Cochin Folklore Museum and Indo-Portuguese Museum. Both museums have a great collection of antiques and artifacts that display the prominent periods and the often conflicting global influences in Cochin's vibrant history.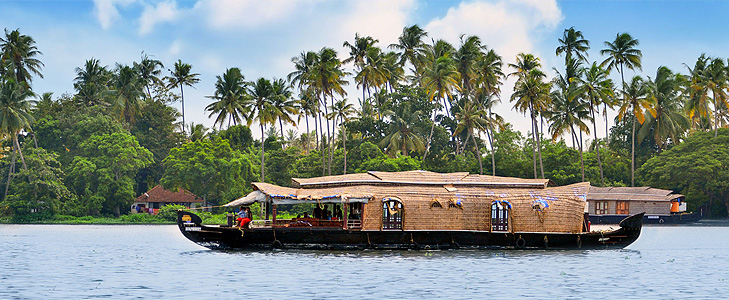 Cochin is also home to a number of iconic churches and cathedrals including the oldest European built church in the Indian Subcontinent. The Cathedral of St. Francis was built by the Portuguese in the year 1503 and still contains the tombstone of the world famous explorer Vasco Da Gama, who is credited with bringing earliest organized European trade and missionary expeditions to India. Vasco Da Gama was buried at this site for over 14 years after which his remains were taken back to Portugal. Another famous church in Cochin that is popular with visiting tourists, is the Santa Clara Basillica which was built in 1506.

Cochin is a center of excellence for many activities that would interest foreign visitors. These include indulgence in Keralan cuisine, shopping, the traditional Kathakali dance form as well as Ayurveda treatments. Many visitors coming to Cochin indulge in these diverse activities with as much gusto as they do in walks along colonial cityscape of Fort Cochin or the cultural treks of Mattancherry.
Best Time to Visit Cochin:
The best time to visit Cochin is between December and April. Cochin has a tropical weather that is hot and humid for most of the year. The city is located in the extreme south west of the Indian Subcontinent in proximity to the thermal equator. Cochin, therefore doesn't get a lot of temperature variance, however is blessed with an average of 132 days of rainfall a year. The city is on the pathway of both the north east and south west Monsoon weather systems.

Since Cochin is one of the main centers of Keralan culture as well as one of the most multi-cultural cities of India, there are a number of festivals that are zealously celebrated in the city. While the city celebrates both traditional Hindu and Muslim festivals such as Holi and Eid with much fanfare, Cochin has a local festival called the Ernakulathappan Utsavam Festival that is very famous with visitors.

The Ernakulathappan Utsavam Festival is celebrated every January / February and is an 8 day festival replete with local art performances, elephant parades as well as a brilliant firework display.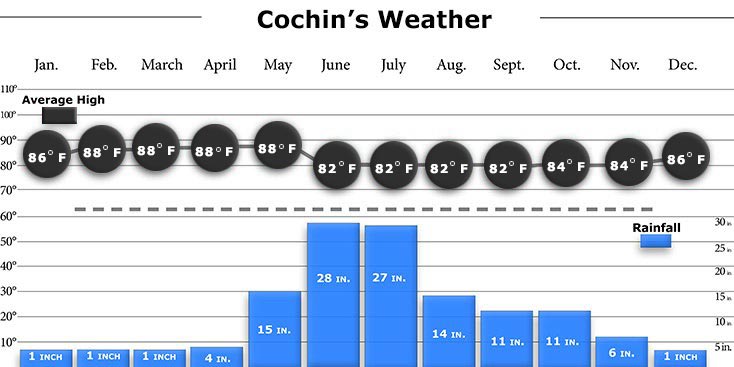 How to get to Cochin:
Cochin is located in the south western Indian state of Kerala. Cochin is the commercial capital of the state and is connected to India and the rest of the world by the Cochin International Airport. While not as large as the major aviation hubs of Delhi or Mumbai, the Cochin International Airport offers convenient connections to all major Indian cities as well as to a number of major international destinations in the Middle East, Southeast Asia and the Orient.

For this reason, the Cochin International Airport is often the gateway of choice for many visitors coming exclusively to tour South India and the many attractions close to Cochin such as the Periyar National Park and the Kerala Backwaters.
Cochin Highlights:
Cochin is a city like no other in India. It is such an amazing melting pot of so many cultural influences coupled with its own ancient civilization that makes it a great launching pad for exploring South India. Cochin and its many attractions will interest fans of history, architecture, culture and contemporary religion. Enthusiasts of photography will also find much to focus on while visiting the city. Cochin's interesting fishing nets, old buildings and vibrant cityscape as well as beaches make for some interesting photo-opportunities.

For fans of food and drink, Cochin is amongst the best places to sample the eclectic and vibrant Keralan cuisine. The city is a major hub for seafood as well as for a multi-cultural cuisine offering due to its rich history.

Cochin is also a great place to see authentic South Indian dance performances such as Kathakali. The city has many venues that regularly host dance performances of critically acclaimed artistes. Another indulgence that every visitor to Cochin should partake in, is a pampering Ayurvedic treatment. The city has many fine establishments that offer a number of treatments to bring balance to mind, body and spirit alike.

For fans of shopping, Cochin is a great place to acquire traditional Keralan handcrafts. Souvenirs from Cochin that are most popular with visitors include organic cotton clothing, Ayurvedic oils, exquisite lace work and housewares.

In recent years, the Kerala Tourism Corporation has made great strides in promoting handicrafts from rural and tribal communities of the state and items such as shawls, paintings as well as figurines made by these rural craftsmen are also proving to be very popular with visiting tourists.
Appropriate Attire:
Cochin is one of the most multi-cultural cities in India with a rich colonial heritage. Kerala is also the home of one of the most progressive and intellectually progressive societies in the country. Therefore western wear (though not too revealing) is perfectly acceptable at most places in the city as well as at upscale establishments and restaurants.

It is however worth noting that many of the attractions in Cochin are religious sites including cathedrals, synagogues as well as temples and mosques. All of these usually have a conservative dress code for visitors to gain entry to the premises. It is therefore best that visiting tourists dress modestly covering arms, legs and shoulders and wear slip-on shoes with socks.

Also since many of the historic attractions of Cochin are best seen while walking, visitors should take adequate protection against bright sunlight.