Mumbai Description:
Mumbai is India's financial and commercial capital for the last two centuries. The city has come a long way from being a tiny fishing village of "Koli" fisherman to a bustling metropolis of over 21 million people that can best be described as New York meets Los Angeles along with another half a dozen prominent cities from around the world, thrown in the mix.

Mumbai is located on what is South Asia's finest deep sea harbor. This has made it a point of interest of all major powers that have claimed India in its sphere to influence. The Portuguese were the first colonial power to recognize the potential of this harbor of seven islands and replaced the local Guajarati and Marathi powers of the day to bring the area into their suzerainty. The Portuguese influence was later replaced by the British as they ascended to become the dominant power of India in the late 18th century. It was under the watch of the British that Mumbai really took off and there has been no turning back.

Today Mumbai maintains its position as India's largest urban agglomeration. The city is home to India's financial and business nerve center, largest stock market, busiest port as well as the world largest movie industry (dubbed Bollywood) in terms of output. All this and more is the reason why an increasing number of foreigners are flocking here on tours to Mumbai.

Being so central to the Indian success story since the late 17th century, Mumbai is dotted with a number of attractions that reflect the various powers that have established their writ on the city over the ages. Attractions in Mumbai include buildings with fascinating colonial architecture from the British Raj such as the Victoria Terminus (now known as Chattrapati Shivaji Maharaj Terminus ), the monolithic Gateway to India arch on the sea front as well as the Rajabai Clock Tower near the iconic University of Mumbai just to name a few.

Other attractions in Mumbai include sightseeing at more spiritual locations such as the city's historic Mahalaxmi Temple (dedicated to the worship of the Hindu Goddess of wealth and prosperity) and the famous Haji Ali's Mosque.

Being a multi-cultural city, Mumbai is said to be home to the houses of worship of at least eight prominent religions and their various denominations including Hinduism, Islam, Buddhism, Christianity, Sikhism, Jainism, Zoroastrianism and Judaism. A lot of these places of worship accept tourist visitors and can enrich any tour of Mumbai immensely.

To get a uniquely Mumbaikar (which is Mumbai's traditional Demonym) experience, one can head out to the Saat Rasta Dhobi Ghat, which is the traditional hand-washed laundry center of Mumbai since times of yore. Also of interest is the Worli Fishing village. The residents at both locations and their occupations have not changed much in the last six hundred years thereby giving visitors a great chance to view life in pre-urbanized Mumbai.

To broaden horizons and exercise the grey matter of anyone on a Mumbai tour, there are a number of museums scattered across the city as well as an abundance of art galleries these include the Prince of Wales Museum (now known as the Chattrapati Shivaji Maharaj Museum and Gallery) as well as the National Gallery of Modern Art along with the Jawarharlal Nehru Center and Planetarium.

For the shopaholic, any tour of Mumbai is hugely rewarding. Being India's commercial capital, Mumbai has seen a level of urban migration that is almost unparalleled in modern history. This has made the city's bazaars, markets and shopping emporiums the best place to shop for bargains, specialties and knick-knacks from across India. Added to that, the city has a vibrant social and nightlife scene that revolves primarily around its more upscale suburbs of Malabar Hills and Juhu which are home to Mumbai's rich and famous, captains of industry as well as Bollywood glitterati.

In the immediate periphery of Mumbai there are also great tourist attractions such as the ancient Elephanta Caves that boast a fine array of temples and beautifully carved cave art.

Also another point of interest for enthusiasts of nature and wildlife fauna is a tour of Mumbai's Sanjay Gandhi National Park which is considered one of the finest places to watch indigenous bird species in the western part of India.
Best Time to Visit Mumbai:
Like most of India, Mumbai has a tropical climate, however being a coastal city it has greater humidity as well as more pronounced rainfall during the Monsoon season.

A popular time to tour Mumbai is the traditional high tourist season between October and March.

Many tourists, however also schedule their Mumbai tours during one of the many colorful festivals that occur with frequency throughout the year. One of the most popular ones to watch is the festival of Ganesh Chaturthi, which is celebrated with considerable zeal across the city.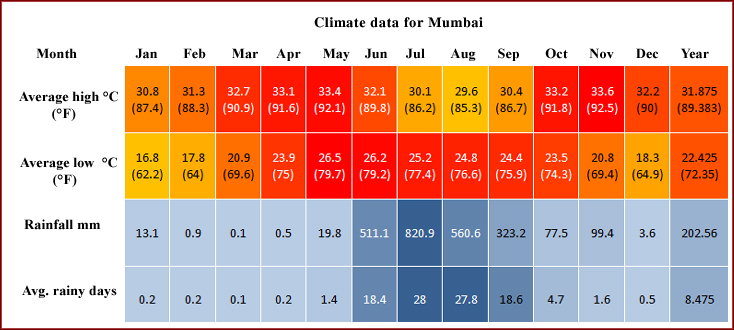 How to get to Mumbai:
Mumbai is India's largest city and its commercial hub. The city is located in Maharashtra state on the western coast of India and is connected to the world by the Chattrapati Shivaji International Airport.

The airport is serviced by most international carriers and offers convenient connections to a host of international destinations.

Mumbai's proximity to North and South India as well as its convenient international accessibility makes Mumbai a great starting point for any tour of India.
Mumbai Highlights:
Being India's undisputed financial and commercial hub, Mumbai gets a lot of tourists who come to the city on business and find reasons to stay on and explore the many attractions of Mumbai.

Also the city's colonial architecture, history and window to Hindu and Maratha culture makes it a point of interest for fans of culture, history as well as religion and spirituality.

Furthermore Mumbai is home to a dynamic urban landscape that has a vibrant nightlife, fashion and cultural scene. It is also India's movie capital – home to the most prolific movie industry in the world and thereby attracts fandom from across the planet.

Food connoisseurs will appreciate the city eclectic culinary scene which combines the best of traditional Marathi, Keralan, Mughlai, Goan and Mangalorean cuisines. Over the course of the years, massive urban migration has ensured that Mumbai is the food capital of India with every conceivable Indian culinary delight being available in the city.
Appropriate Attire:
Being one of India's most dynamic and cosmopolitan urban centers, Mumbai is an extremely liberal and forward looking city. Casual wear and the western clothes are not just acceptable but are the rave at many of the city's clubs and top end establishments. However like any large metropolis in the developing world, your attire needs to reflect to the demands of your present location. Visiting temples, mosques, religious sites as well as some of the cultural artifacts, national monuments and street markets may require more modest dressing including the covering up of arms, legs and shoulders by both genders.
Sights in Mumbai :