Sights in Khajuraho
Khajuraho Temples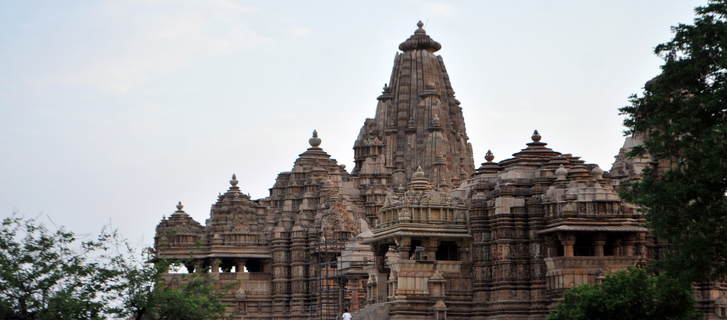 One of the most popular tourist destinations in India, Khajuraho has the largest group of medieval Hindu and Jain temples, famous for their erotic sculpture. The Khajuraho group of monuments has been listed as a UNESCO World Heritage Site, and is considered to be one of the "seven wonders" of India. Of the 85 original temples-most constructed of hard river sandstone about 20 are still reasonably well preserved.
Go to the Khajuraho Temples Page.
Kandariya Mahadeva Temple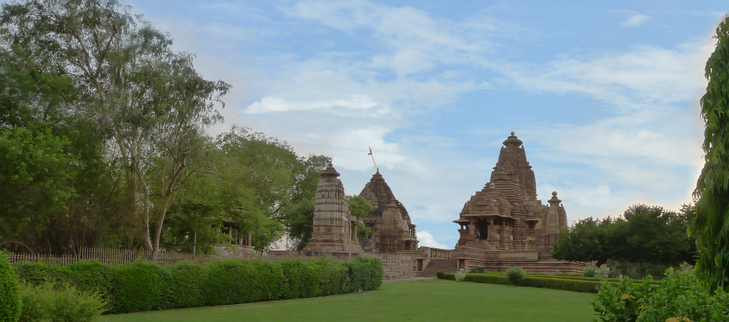 Kandariya Mahadeva is one of the 25 remaining temples in Khajuraho's Word Heritage Site.
The largest and tallest of the temples, Kandariya Mahadeva is dedicated to the Hindu god Shiva. The walls of the temple feature hundreds of carved statues the lives and escapades of the Chandela Rajput dynasty that used Khajuraho as the epicenter of its religious rites. Go to the Kandariya Mahadeva Page.
Duladeo Temple, Khajuraho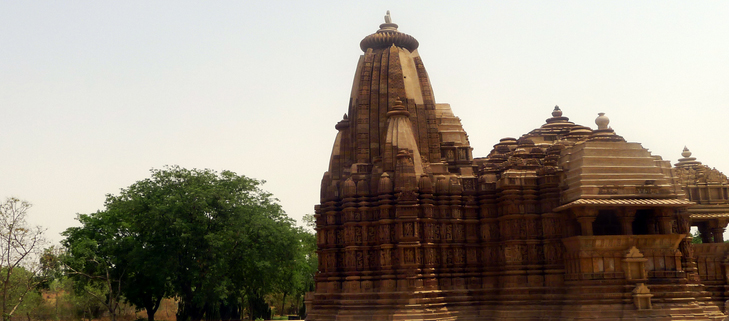 Duladeo Temple is one of the 25 Hindu temples in the World Heritage city of Khajuraho, India.
Originally part of a much larger temple city containing an estimated 85 distinct structures dedicated to various gods in the Hindu pantheon, Duladeo is dedicated to the god Shiva.
Go to the Duladeo Temple Page.
Devi Jagadambi Temple, Khajuraho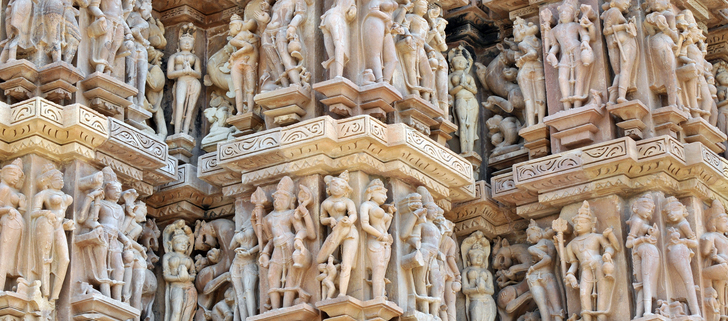 Devi Jagadambi is one of the 25 remaining temples in Khajuraho's World Heritage site.
World renowned for the decorative carvings, many of them erotic in nature, that wrap the structure's walls in bands, the temples are a frequent stop on tours of India. Go to the Devi Jagadambi Temple Page.
Lakshmana Temple, Khajuraho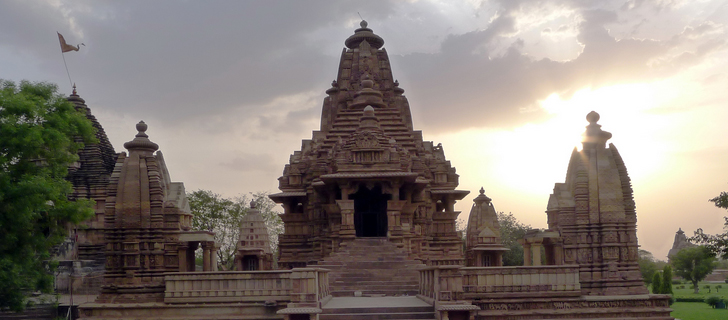 Lakshmana is the oldest and most intricately decorated of the many Hindu temples in the city of Khajuraho, India. Each of the 22 temple structures in the city is dedicated to a different deity, and is all that remain of a sprawling temple city that once contained 85 separate structures. Go to the Lakshmana Temple Page.
Archaeological Museum, Khajuraho
Visitors to the Archaeological Museum in Khajuraho are greeted by a 1,000 year-old statue of the elephant-headed god, Ganesh.
The museum houses hundreds of loose sculptures and friezes gathered from the temple grounds spread throughout the city. With multiple galleries brimming with ancient carvings and sculptures, the museum offers educational context for travelers on tours of India to further illuminate the many temples of Khajuraho. Go to the Archaeological Museum Page.