Panna National Park Travel Information
Located amidst the sylvan settings of the north central part of Madhya Pradesh, the tiger reserve is spread over an area of 1579 square kilometers. Of this total tiger reserve area, Panna national park has an area of 543 square kilometers, Gangau Wildlife Sanctuary 89 square kilometers and Ken Gharial Wildlife Sanctuary at a distance of about 30 kilometers from Panna national park, an area of 45 square kilometers. Once the hunting reserve of the erstwhile rulers of Panna, Chhatarpur and Bijawar States, Panna National Park was constituted in the year 1981 and declared a tiger reserve in 1994.

The main forest types found in Panna Tiger Reserve are southern tropical dry teak forest and northern tropical dry deciduous mixed forest. Other types include dry deciduous scrub forest, Sal forest, dry bamboo brakes and kard hai forest. Many other species provide a valuable fruit diet of the animals here. Several varieties of grasses are found all over and the reserve is rich in fodder.

The life line of the park, Ken river meanders for about 55 kilometers through the tiger reserve from south to north. Springs and gorges along the course of Ken river offer magnificent sights. Springs (locally called jhirias) are the major water sources available during the months of summer.

Sightings of Tiger are reported, although the Leopard are more common. One can easily see nilgai and chinkara in most open areas. The wooded areas are dotted with sambhar, chital and chausingha. Sloth bear are mostly found in the rock escarpments. The other animals include jackal, hyena, rhesus monkey, langur and wild pig. More than 200 species of birds including a host of migratory birds have been sighted in the park. These include paradise flycatcher, pond heron, partridges, quails, pea fowls, parakeets, egrets, mynas, bulbul, cuckoo, jungle crow etc. Common reptiles comprise lizards, chameleon, Indian python, cobra and kraits, in addition to crocodile. Gharial, a rare & endangered species, can be seen in the Ken Gharial Sanctuary.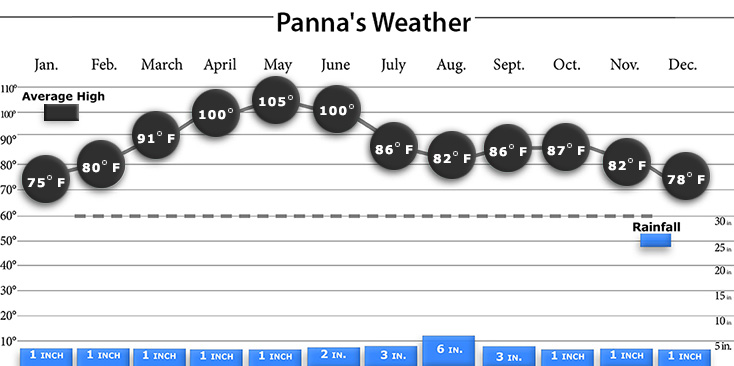 How to reach

Khajuraho is the nearest airport which is just 25 kilometers from the Madla gate of the tiger reserve, a mere half an hour drive away.
The park is closed between 1st July to 15th October and the best time to visit is between December and March.