Hindu legend says that, when time began, Lord Brahma (creator of the universe) dropped a lotus (pushkara) on this spot. From this sprang the lake that Pushkar is built next to. Many believe that anyone who bathes in the waters of this holy lake will be absolved of their sins. There are over fifty Ghats around the lake, built by various rulers over the centuries.
Apart from being a tiny town with 400 temples, Pushkar prides itself on being the site of the only temple dedicated exclusively to Lord Brahma, the Hindu God of Creation.
The small town of Pushkar is a two and a half hour drive (130 km) from Jaipur. Pushkar is the venue for the world renowned Pushkar Camel Fair and is located on the banks of a holy lake that goes by the same name. There are over fifty Ghats around the lake, built by various rulers over the centuries. Hindu pilgrims visit Pushkar's temples and the lake throughout the year.
The sleepy little town comes alive in the beginning of October as elaborate preparations begin for the Pushkar Fair. These activities result in the many unique events, spectacles, and sights that one can experience during the Fair.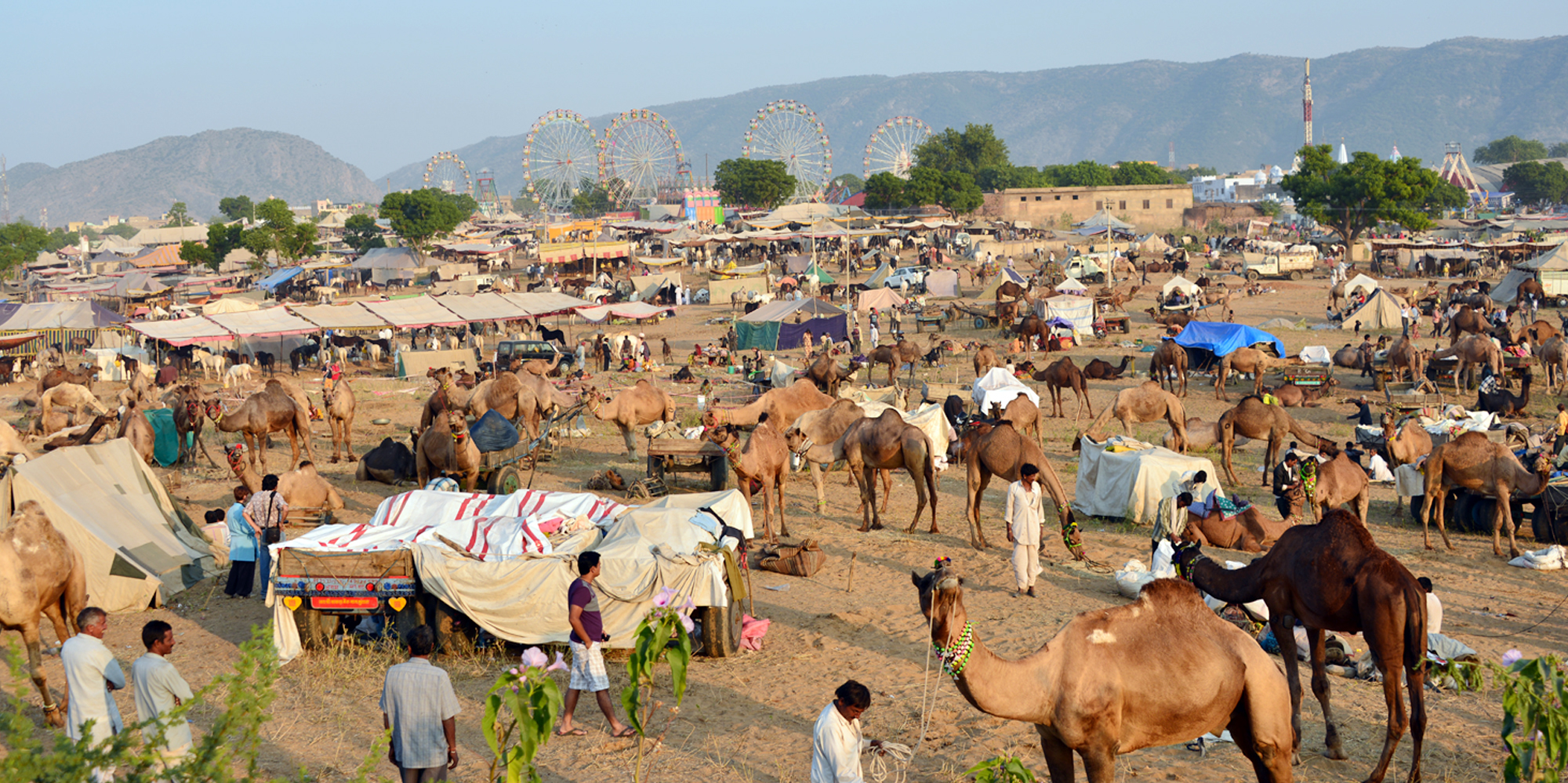 Pushkar Fairgrounds
Take a Picture Tour of the Pushkar Festival

The Fair is scheduled between late October and November (determined by the Lunar calendar), and villagers bring over 100,000 cattle (including 50,000 camels) to trade & sell. It also includes a plethora of activities such as horse shows, camel races, camel and cow beauty contests, acrobatics, camel safaris and much more.
The Pushkar Camel Fair is the most colorful gathering of humanity and livestock on this planet, and attracts large numbers of international and Indian tourists. The Rajasthan government hosts a number of ethnic cultural events (such as Rajasthani dances) to coincide with the Fair.
Decent accommodations and other facilities are impossible to find unless you have prepared well in advance. Easy Tours secures the best air conditioned luxury tents and cottages at Pushkar's premier year around Resort, and these are made available to our guests.